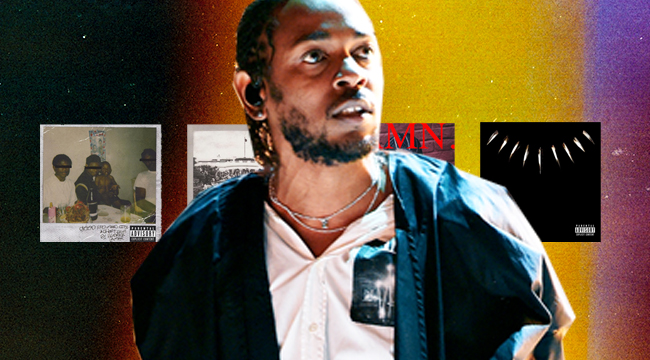 What does the man who's done it all do next?
That's the question facing Kendrick Lamar as he considers his next musical move in a career that's seen him take the industry by storm, shake up the rap game right down to its roots, and bizarrely, watch accolade after accolade go to his rivals and contemporaries as he continues to be shut out at awards shows like Grammys.
In a recent, reflective post on Twitter, Top Dawg Entertainment president Punch reminisced about the last time Kendrick faced such precipitous decision, after the release of his dense, autobiographical debut, Good Kid, MAAD City, pondering a piece of advice from reigning rap GOAT Jay-Z, given ahead of Kendrick's masterful follow-up, To Pimp A Butterfly.
"I had a conversation with Jay-Z during the process of To Pimp A Butterfly," he wrote. "I told him, 'We are about to drop this album that's going to challenge and possibly piss off our fan base.' He said, "Good! Do it now, and they'll never be able to put ya'll in a box.' He was right."
It seems he really was right. Since then, Kendrick's fans have learned to expect the unexpected when it comes to the Compton iconoclast. He does what he wants when he wants how he wants. His catalog, surprisingly, is one of the most diverse, eclectic, and broad of any in modern rap — he's basically done every kind of an album you could possibly think of within the genre of rap.
He isn't done yet either — earlier this month, he conspicuously updated his Twitter profile pic and header to pitch black. The last time did this, he gave the world DAMN. just a month later. If it can be assumed that he's going to release something soon, the remaining question is this: What's left for him to do?
Allow me to offer another question in response: What hasn't he done? So far he's released his biographical, early life-spanning debut in Good Kid, MAAD City — his Illmatic, if you will. He also managed to avoid the Illmatic curse — the persistent sense that has dogged Nas for most of his career that he'll never match his enigmatic and formative debut — by taking a hard left turn with the concentrated introspection and spastic jazz-funk of its artsy follow-up.
He followed up the experimental To Pimp A Butterfly with a project of freeform cuttings called Untitled Unmastered, then with his most commercially-focused project yet, the hard-hitting DAMN., whose accessible production belies its hidden depth — never forget, he designed the album to be played both front-to-back and back-to-front, telling a circular tale of redemption and damnation through its ruminations on love, sex, faith, and fate. Then, he capped this frankly ridiculous run with a carefully curated soundtrack for Marvel superhero movie Black Panther.
So, where does Kendrick go from here? There haven't been too many similar career arcs in the history of rap. The closest analog — the aforementioned Nas comparison — pretty much stalls out after two albums. Good Kid may stack up to Illmatic in a lot of ways, but their career paths diverge wildly after that, with Kendrick sidestepping the weighty expectations leveled on him by an adoring populace with his experimental art project and Nas chasing the mainstream glory on his criminally underrated It Was Written.
Jay-Z, the man who praised Kendrick's boldness in the above strategy, provides an okayish example; he's got the classic debut and if you tilt your head and squint, Vol. 1 could almost be his artsy project — at least, it's a departure from his previous critically acclaimed, commercially unsupported debut. Jay even has a soundtrack to his name, of sorts, in the Streets Is Watching companion Jay and his Roc-A-Fella cohorts curated. The Blueprint is as much his jam session album as Untitled, but where Kendrick packed in all this range in just five projects, Jay's highlights were scattered over a much more prolific — and inconsistent — oeuvre.
If there are any specific types of albums still remaining to add to Kendrick's resume, looking at his peers and contemporaries like Drake, J. Cole, and — and this is admittedly a stretch — Lupe Fiasco, Kendrick has yet to attempt a double album, a high concept album, or stepping outside of his genre entirely as Drake did with large chunks of More Life. While DAMN. could arguably be considered a double album (I say no, because it's still the same songs no matter which direction it's played in), most of Kendrick's works have been concise statements, minus the woozy tail end of Butterfly, and one wonders what two whole discs of K. Dot would even sound like — or if they're even necessary.
He could try to go the super deep, high concept route like Cole and Lupe's latest albums. On KOD, Cole examined the nature of addiction to everything from drugs to money to the standard substances abused by his face-tatted detractors, while on Drogas Wave, Lupe imagined an Atlantean society of escaped slaves working to overthrow the slimy institution. However, Kendrick has already shown that he can fold heavy concepts into more commercially accessible works like DAMN. and Good Kid, which already have plenty of storytelling and compelling, instructive metaphors throughout.
It would seem that Kendrick's best bet might be to try something completely different, that might genuinely surprise his fans. What if he went full R&B, committing himself to stone cold grooves and honeyed melodies? Or imagine a hard rocking, blues-influenced guitar-driven album in the vein of garage rock or outlaw country. He could enlist Gary Clark Jr. for that. He may have to stay away from dancehall and Afropop — Drake's already pretty firmly staked out that lane, then again, he might just want to compete with Drizzy in a lane just adjacent to rap.
In the end, Kendrick could just decide to lean away from all the expectations and just make a straightforward rap album, with no gimmick or groundbreaking angle, just a collection of raw raps over dope beats. When the expectation is for him to shake the table every time out, maybe the best way to surprise people is to leave the table alone. Whatever he's got planned, he's got the whole rap game's attention as we impatiently wait to find out just why he blacked out that profile picture of his, knowing that it'll be well worth the wait.