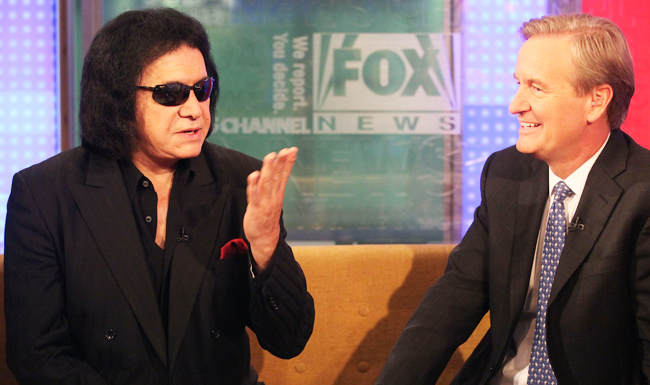 Fox News has had a checkered record of sexual harassment and sexism over the past year, leading to the exit of former head Roger Ailes and longtime personality Bill O'Reilly. It has seemingly been enough to see the network attempt to change the environment in the workplace, something that has now led to Gene Simmons being banned for life from Fox News and its other network partners.
The KISS bassist and founder is a longtime guest on the network and made his latest appearance on Wednesday across the main network and Fox Business Network, promoting his new book On Power and having what seemed to be a fun time with the folks, even helping to deliver the weather on Fox And Friends.
He followed this by sitting with Maria Bartiromo for a chat and ended up giving his opinion of the ongoing Harvey Weinstein and sexual misconduct scandal that seems to be swirling around the country. According to The Daily Beast, Simmons felt the question was a bit odd considering his rock persona and seemed to blame the entire thing on testosterone:
"The lunatics have taken over the insane asylum when respected business entities such as yourself ask guys that like to stick their tongues out," Simmons answered, "what I think of Harvey Weinstein."

"Okay, I'm a powerful and attractive man, and what I'm about to say is deadly serious," he continued. "Men are jackasses. From the time we're young we have testosterone. I'm not validating it or defending it."
It wasn't long after this that Simmons was off to his third Fox appearance of the day, heading to an interview with FoxNews.com. This is when "The demon" busts in on a staff meeting on the 14th floor and proceeds to offend everybody present in the span of a few minutes:
"Hey chicks, sue me!" he shouted, and then pulled open his red velvet shirt to reveal his chest and belly, according to the source. Then he starting telling Michael Jackson pedophilia jokes, and then bopped two employees on the head with his book, making derisive comments about their comparative intelligence according to the sound their heads made when struck.
The Daily Beast notes that Simmons' antics were soon reported to a supervisor and human-resources exec Kevin Lord, leading to the decision to ban Simmons for life. It shows a new attitude for the network in light of their experiences over the past year, though Bill O'Reilly was invited back to appear with Sean Hannity without a peep of the allegations against him.
Simmons or his publicist didn't provide comment to The Daily Beast regarding the incident and the last social post from the rocker is a photo outside of Sirius XM earlier on Thursday:
(Via The Daily Beast)