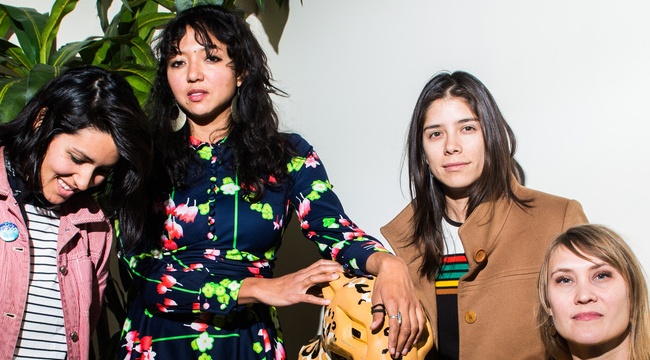 La Luz shared "California Finally" today, the second single teased off of their upcoming third studio album Floating Features, which is set for release on March 11. The track is the Los Angeles-based band's homage to the "weird golden paradise" that they now call home. And it sounds undeniably like an ode to the California glamorously enshrined on screen, with its surf-rock gliding guitar riffs and lavish vocals.
"California Finally" drifts with skillful agility and steadily builds suspense, reaching its paramount declaration in the pre-chorus: "I made up my mind some time go / No one's gonna tell me where I can go / California finally, my golden dream / Feels so good walking down the street." The song then breaks continuously like waves with the repeated line, "I do what I wanna do / What I wanna do / What I wanna do."
You can give "California Finally" a listen here. Along with the new tune, La Luz have also announced an expansive list of tour dates, a plethora of which will be taking place at SXSW in Austin.
3/09 – Las Vegas, NV @ Neon Reverb Festival
3/10 – Phoenix, AZ @ Flying Burrito Festival
3/11 – El Paso, TX @ Warszawa
3/13– Austin, TX @ She Shreds Showcase at Kinda Tropical
3/14 – Austin, TX @ Panache Bruise Cruise
3/14 – Austin, TX @ Electric Church
3/15 – Austin, TX @ SXSJ at Hotel San Jose
3/15 – Austin, TX @ Levitation Showcase at Hotel Vegas
3/16 – Austin, TX @ Volcom X Showcase at Volcom Garden
3/16 – Austin, TX @ Panache Official SXSW Showcase at Hotel Vegas
3/17 – Austin, TX @ Burgermania VII at Hotel Vegas
3/18 — Dallas, TX @ Not So Fun Wknd
3/20 — Tucson, AZ @ 191 Toole
4/26 — Austin, TX @ Levitation Festival
5/11 — San Francisco, CA @ Rickshaw Stop
5/12 — San Francisco, CA @ Rickshaw Stop
5/13 — Arcata, CA @ The Miniplex
5/14 — Eugene, OR @ Wow Hall
5/16 — Vancouver, BC @ The Biltmore Cabaret
5/17 — Seattle, WA @ The Crocodile
5/18 — Seattle, WA @ The Vera Project
5/19 — Portland, OR @ The Aladdin Theater
5/22 — Boise, ID @ The Olympic
5/23 — Salt Lake City, UT @ Kilby Court
5/24 — Ft. Collin's, CO @ Hodi's Half Note
5/25 — Denver, CO @ Larimer Lounge
5/28 — Omaha, NE @ O'Leavers
5/30 — St. Louis, MO @ The Ready Room
5/31 — Chicago, IL @ Subterranean
6/02 — Grand Rapids, MI @ Pyramid Scheme
6/03 — Toronto, ON @ Horseshoe Tavern
6/04 — Montreal, QC @ L'Esco
6/05 — Portland, ME @ SPACE Gallery
6/06 — Boston, MA @ Once Ballroom
6/08 — New York, NY @ Public Arts
6/09 — Brooklyn, NY @ Northside Festival at Baby's All Right
6/10 — Philadelphia, PA @ Underground Arts Black Box
6/11 — Washington, D.C. @ Songbyrd
6/12 — Raleigh, NC @ The Pinhook
6/13 — Atlanta, GA @ The Earl
6/14 — Jacksonville, FL @ Root
6/15 — New Orleans, LA @ Santos
6/19 — San Antonio, TX @ Paper Tiger
6/20 — El Paso, TX @ Monarch
6/21 — Tucson, AZ @ Club Congress
6/22 — Los Angeles, CA @ Teregram Ballroom