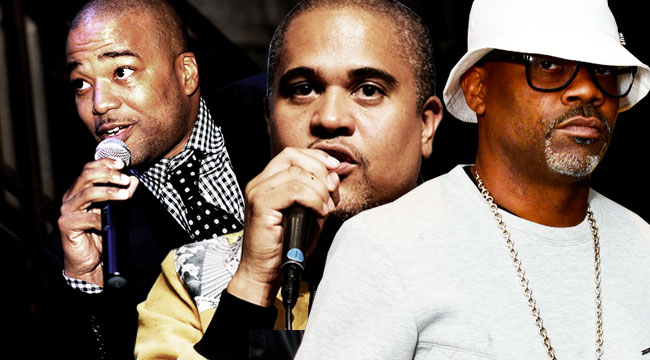 Cardi B rode hilarious Instagram videos into a deal with Atlantic — and a number one hit. Danielle "Bhad Barbie" Bregoli turned being a bad ass kid into a deal with Atlantic. If you believe DJ Akademiks' recent tweet, Instagram personalities like Boonk and Fatboy SSE may have ridden being obnoxious to as-of-yet-unannounced deals.
Matt Ox turned pre-pubescent irony into a deal with Warner Bros., and Blac Chyna parlayed Kardashian-related fame into an alleged bidding war because…we're still unsure. It's fitting that in post-regional hip-hop, the newest hotbed for signees isn't a city, but the viral charts. It seems like the only parameter for a modern label signee is: Do they come with a built-in audience?
Sure, the music business has always been about making money above all, but in previous generations, there was more discernment and regard for musical integrity. Novelty acts like Vanilla Ice and Deion Sanders were fewer and farther in between in the '90s and '00s. Rocafella used to have Carmen Electra and seemingly every athlete you can imagine in videos, but they never tried to actually sign anybody who wasn't an established artist with proven musical ability.
Even when they considered signing jeweler Ben Baller, he said Dame asked him to spit to see how he'd sound on a record first. But nowadays, it feels like we're at the point where many major label's rosters are being built solely based off social metrics from an air-conditioned room far away from the culture they're watering down.
Murder Inc CEO and industry executive Irv Gotti recently lamented to Funk Master Flex that when he first brought DMX, he of 74 million records sold, to the Def Jam offices, no one understood his appeal until he explained it to them — and he even left the label when they wouldn't sign DMX initially. If the next DMX walked into Atlantic, would he merely be told to make an IG barking at people and hit them back once he's accrued a million followers?
I wonder what happened to all those DMX-like figures who were never "understood" throughout the years, who didn't have advocates like Gotti with enough cachet to vouch for their money-making ability. Today, there are, no doubt, gifted-but-troubled kids who don't have consistent access or the know-how to capitalize off the internet. Who in the music industry will vouch for them, or even know how to reach them? Who in the music industry will have the necessary skills to discern if they're great musicians or artists?
It may be easy to say they should use the internet to "get on" themselves, but the artists who have had the biggest victories in hip-hop have relied on people with connections to the industry to open the door. Drake got on with the help of J Prince Jr. telling Lil Wayne and Birdman at Cash Money to peep his music. Migos and Lil Yachty work with Coach K, who had managed Jeezy and Gucci Mane before. DJ Drama helped Lil Uzi Vert get his deal. Charlie Mack did the same for Meek Mill. Ditto Rocko and Future. Throw these figures out of the equation and you have to wonder how well the artists fare in the ephemerality of Soundcloud and Youtube. The cream rises to the top, sure, but how much longer would it take?
How much less potent is the current hip-hop canon without the work of those talented artists who couldn't find an "in" and resolved to give up their improbable rap dream and get a 9-to-5 — or worse yet, became prey to a carceral state or coffin, all while label heads are scrolling the #lmao hashtag on Twitter for their next big thing?
The line between stardom and "coulda been" is razor thin, and once depended on cultural brokers such as Gotti to help dictate. But now, those figures increasingly seem like a figment of hip-hop's distant past and its consumers who are seeing the consequences. "Quality Control" is just the name of a rap crew in 2017.
Thanks to the aforementioned, already-established stars and younger independent acts like Chance The Rapper, Mac Miller, and Joey Bada$$ laying an independent blueprint, hip-hop is still in good shape as a whole. But the recent major label signing of viral stars evokes the "ringtone rap era," where labels scooped up artists like Soulja Boy, D4L, Shop Boyz, Mims, Dem Franchise Boyz, and anyone else who had a hit that seemed lucrative. Years later, many of those acts are afterthoughts, and the mid-'00s time period in which they were being scooped up is widely regarded as one of the weakest ever for hip-hop.
That mid-to-late '00s era was a significant time of flux for labels, reeling from the advent of file sharing and internet bootlegging. While chasing a quick buck could be more understandable when a major label is hemorrhaging money, for executives to still have that capitalistic strategy going after the labels have figured out the (exploitative) streaming structure is a black mark on the industry.
What would happen if every label starts chasing the "next Cardi B" by scouring strip clubs and trawling Instagram for artists like Boonk, who admittedly "just started taking rap serious" and used videos of him purportedly shoplifting to get the buzz his music apparently couldn't?
Industry vet NORE noted major labels have become about rinsing signees for a single and shelving them. He would know the difference, as he came up in hip-hop's late-'90s/early-'00s industrial revolution of million dollar video budgets and advances, where there were countless young impresarios who knew how to maximize those dollars wisely. Label executives and imprint owners like Dame Dash, Gotti, the late Chris Lighty, Diddy, and more knew exactly what hip-hop fans wanted — and had the finesse and determination to get major labels to give it to them.
From Biggie and Jay-Z to Ja Rule, Cam'ron and Mobb Deep, you'd be hard-pressed to think of a major artist in the mid-to-late-'90s New York scene in particular who can't credit one of those executives with helping further their career in some capacity. And it wasn't just New York. Def Jam's Shakir Stewart helped the label bring in southern institutions like Young Jeezy and Rick Ross. Despite Suge Knight's flaws, he fought for artists like Jodeci and Mary J. Blige to get their just due from industry execs employing rule 4080. These men were gatekeepers, and impressively, all of these men were only in their twenties during the '90s, the much-ballyhooed period they helped mold.
But as the landscape of the industry has changed with the advent of the internet, those cultural brokers are far less prevalent. A$AP Yams, the brains behind the A$AP movement and advocate for young artists such as Vince Staples and Retchy P, had the chance to be what Joey Fatts deemed "the next big A&R," but his untimely death means we'll never know what he could've done. What's left is an alarming dearth of cultural advocates at a time when –- as the XXL Freshman List shows –- there's a tremendous lack of sonic balance in mainstream hip-hop.
Hip-hop traditionalists frequently bemoan what's perceived as a lack of lyricists in the mainstream, which unfairly gets turned into resentment toward "mumble rappers" who have proven to have lucrative potential with their melodic, 808-heavy sound. What hip-hop heads miss, though, is the lack of credible A&Rs and music executives with the know-how to help groom young lyricists into marketable acts.
DMX was fledging for years before Gotti got him with Dame Grease to mold the grimy sound he's revered for. You can hear the Diddy influence on Ready To Die, from the raw, intense delivery on songs like "Gimme The Loot" (recorded earlier in Big's career) to the smooth mastery of a "Big Poppa." It only took Busta Rhymes one time to listen to Diddy's advice to slow his flow down to come up with "Put Your Hands Where My Eyes Can See," perhaps his most resounding club banger.
Dame Dash fought relentlessly for his artists, getting rugged acts like Freeway and Beanie Sigel platinum plaques when their sonic progeny like Conway, Westside Gunn, Dave East, and Freddie Gibbs would be lucky to go gold. Figures like Dame, who was managing acts in Harlem for years before he met Jay-Z, know how to find the balance between lyricism and mass appeal, which is important when label execs just want a hit and every young spitter is lost in their artistry, seemingly wanting to create the next Illmatic. Chris Lighty noted that he basically had to physically take A Tribe Called Quest's The Low End Theory files from Q-Tip, or he would have been tweaking it forever. Who's doing that for Jay Electronica? That schism is untenable without a middleman to finesse both sides.
Take Harlem's Dave East for example. He has star potential but hasn't yet found the hit single needed to catapult him into the mainstream consciousness. Gotti regretted that there was no figure to help East in the same manner that late Lighty assisted artists like Tribe Called Quest, and later 50 Cent, Mobb Deep, and Busta Rhymes at Violator Management.
Years ago, actions like Chance The Rapper's mocking of nearly every major label at his May concert would've been blackball-worthy. But today, he represents the highest possibility for hip-hop independence, able to freely mock executives who have historically been apathetic and out-of-touch with hip-hop culture without their veritable tour guides.
There are bright, culturally-inclined minds out there such as Pat Corcoran who helped Chance and Disturbing Tha Peace's Chaka Zulu, but with their work centralized for the benefit of one artist or camp, reaching the cultural impact of an Irv Gotti, Chris Lighty or Diddy is much harder — and apparently needless. It seems like even though the internet has potential to groom more figures like Yams, young managers and would-be executives are curating their own movements.
Maybe that's how it should be, but it hurts to see major labels flounder after so few people have been able to receive the baton from Diddy, Lighty, Gotti, and others. Whereas Diddy probably would've screamed at Danielle to go to school and get out of his face, and Dame would've used Instagram stars in a movie — but not on a record, major labels are grasping at straws trying to turn anyone involved with hip-hop culture into hip-hop artists, which could potentially hurt both the culture and the bottom line. Not to mention the music.