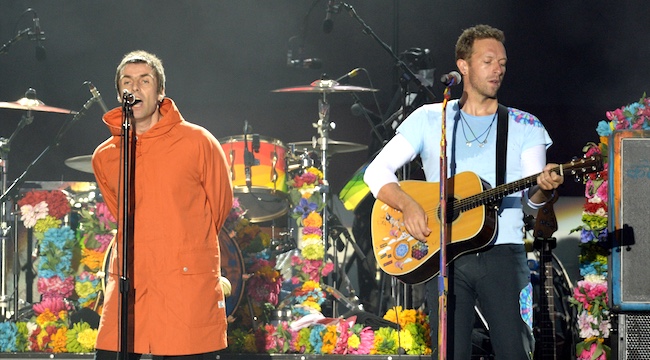 When former Oasis frontman Liam Gallagher isn't saying ill-spirited things about his brother and former bandmate Noel Gallagher (which he's famously done a lot over the years), he's also been known to publicly disrespect Coldplay from time to time. In the past, he's said that Chris Martin "looks like a geography teacher" and compared him to a "plant pot," whatever that's supposed to mean.
He backpedaled on his insults after performing at the Pinkpop Festival in the Netherlands last month, though, saying, "They've never sounded so good have they, Coldplay? I was like, 'F**king hell, you sound good, man. I take back everything I've ever said about you. You sound f**king really good.'" Yesterday, Gallagher told Zane Lowe that he even formalized his apology with Martin backstage at the One Love Manchester concert:
"I got in the dressing room and said, 'I apologize for everything I said before, I was being a dickhead.' He went, 'Nah, nah, nah, we f**king love it.' So I've got a pass."
As apologetic as Gallagher's feeling in recent days, though, he still won't make nice with his brother. During the interview, during which Liam referred to Noel as "our kid," he answered Lowe's question about their bad blood preventing an Oasis reunion:
"I don't care about getting Oasis back together. But he prods me, and I prod him, and I like winding him up. I'm just reminding him that I'm right here 'cause his head's up a few people's arses. Music's about having a laugh, and life's about having a laugh. I like taking the piss out of my brother who thinks his s**t don't stink. I know it's childish, but I don't care."
He did say, however, that he wishes he was on better terms with his brother, saying, "Me and our kid don't speak and that's the saddest thing about it. We've got to start becoming brothers and friends again. It don't matter how many noughts you put on [a check]." That said, it still doesn't seem like an Oasis reunion is likely: "We don't do it for the money. We didn't do Oasis to make money. I did it to make music and get out of Manchester and see what's out there."
Lastly, Gallagher added that from his perspective, hoping to hear quality renditions of Oasis songs at a Noel Gallagher concert is a bad idea, because of course he thinks that: "If you want to come and hear Oasis songs done properly, come to my gigs. Our kid's doing them like Dolly Parton."
Gallagher always has a lot to say, so listen to the full Zane Lowe interview below.