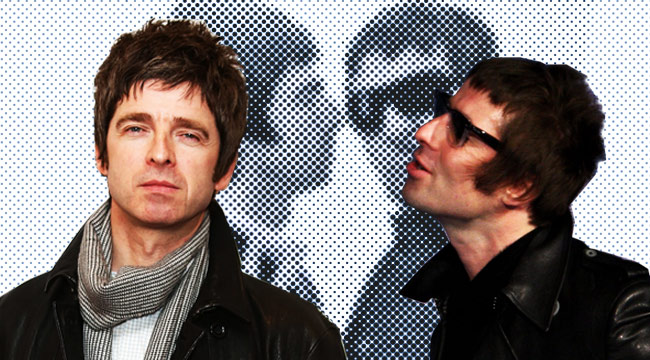 It's one of the quintessential pairings of the 1990s; Ross and Rachel, Biggie and Tupac, Noel and Liam Gallagher. From the moment their band, Oasis, hit it big in 1994, all the way through their breakup in 2009, the Gallagher brothers made their sibling rivalry part of the show, and together revived the mystique of the self-aggrandizing rock star. While they released a number of albums that were successful both commercially and critically, and they've contributed more than a few gems to the annals of pop music ("Champagne Supernova" was the soundtrack to the summer of 1996), their towering egos, public feuding, and outlandish statements always seemed to overshadow their music.
Last week, former Oasis frontman Liam Gallagher was interviewed by Little White Lies, and when asked about his former band and their relatively quick success, Liam proclaimed that "What we did in three [years] took the Beatles eight. Good, y'know, f*ckin' rightly so." Some things never change, I guess.
Now with Liam's revivalist claim about how Oasis was bigger and better than the Beatles, here's a fond look back at the Gallagher brothers' most short-sighted, ill-tempered, and ego-centric moments. (So far.)
5) A Kindler, Gentler Noel Gallagher (Sort Of)
When TMZ caught up with the older Gallagher brother at an airport in May of 2015, he was asked directly about his infamous "bigger than the Beatles" remark. Noel responds that he was "probably high" when he said that, and refers to the music of Oasis as simply being "pretty good," though he admits he has a personal bias.
Now, before you go thinking that Noel Gallagher had somehow become a more compassionate person and less an unrivaled egomaniac, when asked if Oasis would ever reunite, Noel responded simply "no." Even better, the TMZ reporter told him that this news was heartbreaking for him to hear, Noel told him simply "I don't care," before turning around and walking away. Still got it, Noel, even after all these years.
4) Liam Gallagher Talks Profanely About An Oasis Reunion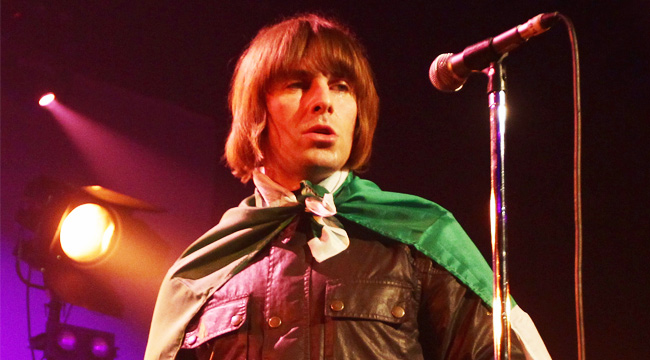 A few years before the above interview with Noel, Liam had a rather candid chat with LA Weekly in 2011, just two years after Oasis broke up. He talked about his new band, Beady Eye (comprised of the most recent lineup of Oasis, minus Noel Gallagher), who were on the road with a batch of new songs that represented a little bit looser of a sound. When discussing songwriting, recording, and touring, Liam did so with enthusiastic positivity that seemed almost uncharacteristic.
That is, until he was asked about the chances of being in a band with his older brother again. Suddenly, his tone changed, and he said that he'd "rather eat my own sh*t than be in a band with him again. He's a miserable little f*ck, if you know what I mean." Though, in a moment of rare diplomacy, he did admit that he'd consider an Oasis reunion tour if it were done "for the right reasons."

3) The Whiskey A Go-Go
Oasis was barely on the cusp of international superstardom when we all got a pretty good idea of what the band would be about. During a show at the Whiskey A Go-Go in Los Angeles back in September of 1994, Liam kept changing the words to Noel's songs, swapping out lines about gardens and love for nose-picking. While that might seem like some simple, harmless fun, Liam would later escalate the situation dramatically, hitting his older brother over the head with a tambourine during the set. He then capped it all off by insulting the audience for being American.
It was so bad that Noel quit the band the next day, only to rejoin them later on that very tour. Looking back on it 22 years later, it's almost a microcosm for Oasis' entire career. Antics lead to violence, violence leads to breakups, breakups lead to reunions. Rinse, repeat for the next 15 years.
2) Bigger Than The Beatles
Oasis' repeated assertions that they were bigger than the Beatles is more associated with the band than just about anything else they've done. Granted, the Beatles have an enormous amount of influence on popular music, but no one quite had their eyes on the throne like the Gallagher brothers. "If you don't want to be as big as the Beatles, then it's just a hobby," said Noel, referring to his aspirations with Oasis, and telling The Guardian in 2006 that he was not only "a superhero in the '90s," but that he holds his band's debut record, Definitely Maybe, in very, very high regard. "McCartney, Weller, Townsend, Richards, my first album's better than all their first albums. Even they'd admit that."
(So far, none of them have admitted that.)
In fact, their Beatles worship might have been the only thing that the brothers ever agreed on. Liam even insisted that he was the reincarnation of John Lennon, telling The Guardian in 2002 that "I don't think I am. I think I was. He's me now." This is, of course, ignoring the fact that Liam was born in 1972, eight years before John Lennon was killed.
Even former Beatle Paul McCartney weighed in on the subject earlier this year, telling Q Magazine that he "thought the biggest mistake they made was when they said 'We're going to be bigger than the Beatles.'" While McCartney is known to be the slightest bit smug about co-fronting one of the world's greatest bands, he did say that the Gallagher brothers had every right to try and be bigger than the Beatles, he maintains that they shouldn't have come out and said it. "The minute you say it, everything you do from then on is going to be looked at in the light of that statement."
Based on Liam's comments last week, it seems he may not have gotten the memo.
1) The MTV Unplugged Performance
Finally, when discussing all the back-talking, in-fighting, and self-aggrandizing that went on during Oasis' 18-plus year career, you can't deny the sheer entertainment value of fragile rockstar egos constantly going at it with one another, whether it overshadowed their music or not. Looking back once more to 1996, Oasis had been asked to do an acoustic taping for the MTV Unplugged series, and singer Liam Gallagher said he had to sit the night out, blaming his absence on a sore throat. "You've got the four ugly ones tonight," said Noel at the beginning of their acoustic set.
The thing was, Liam wasn't really absent. He was right there, in the room, watching the show from the balcony with his then-fiancee, actress Patsy Kensit. He also seemed to be doing a liberal amount drinking and smoking — which are two things you generally avoid when you have a sore throat. After he was spotted by one of the show's camera operators, Liam even proceeded to heckle his brother from the balcony. Later, the crowd did their best to get Liam behind the microphone, if even for one song. While he briefly hopped up on stage, all he bothered to do was bang out a few chords on the piano, and left after waving goodbye.
Noel ended up taking over the duty of lead vocals that night, and not only proved to be more than capable of doing the job, he was able to put his own spin on the words he'd written for his brother. Noel's moving performance aside, Liam showing up to the gig and not singing was a prime example of their blatant disregard for their fans, and it oozed with self-entitlement. It was also a scathing reminder of the real bitterness between these two brothers and bandmates that still exists to this day.