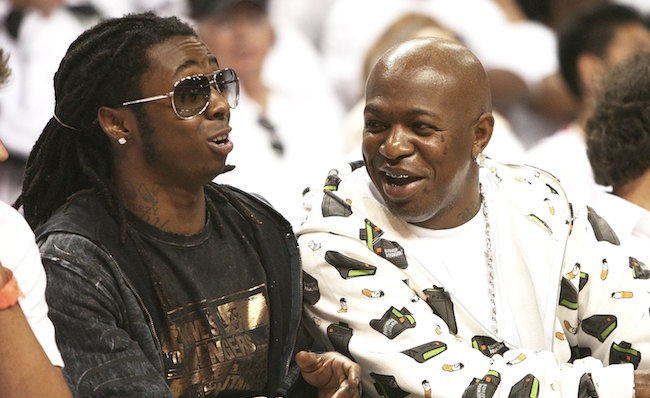 It used to be Like Father, Like Son for Birdman and Lil Wayne, but not anymore. The fallout between the two parties has gotten nasty at times and according to legal documents filed on behalf of a Mr. Weezy F. Baby, Birdman ripped off Wayne in a big way when it came to nine digit advance.
In documents obtained by TMZ, it's being alleged that Universal Music Group advanced Birdman $100 million for a distribution deal. According to Wayne's camp, that money was not fairly distributed and did not reflect the Young Money/Cash Money label partnership. He claims that roughly $70 million ($70 million!) was blazed through with Birdman saying the money was spent royalties, marketing and recording expenses. Lil Wayne wants to see the receipts to back this claim up. Y'know, as one does when you need to sort out where tens of millions of dollars have gone. So, uh, enjoy the endless legal wrangling that comes from that.
This certainly isn't the first time Birdman's been alleged to have engaged in shady business practices. Hip-hop industry legend Wendy Day provided some valuable insight into her work with Cash Money in a 2014 must-read interview with Nah Right.
He [Birdman] said to me "sue me, when I have to pay you, you'll get paid." He said it very nonchalantly and very matter-of-factly, and as time wore on I saw that he didn't pay anybody. He didn't pay the t-shirt manufacturers, he didn't pay the Fruit of Islam for security, he didn't pay security guards for security, he didn't pay his staff, he didn't pay his office rent. They didn't pay anybody.
She did get an apology from Birdman, though.
At one point, one of my artist friends [Freddie Foxxx] bumped into Birdman and put a gun to his head and made him call and apologize to me, which he did. He [Birdman] called me up and said 'Oh, your friend just pulled me out of Hot 97 and I'm here on the street, on my knees and I want to apologize to you.' I really didn't care about the apology. I wanted to know, why would somebody sh*t on someone that changed their life for the better? I just couldn't wrap my head around that and he couldn't really give me a good answer.
Here's hoping that this bout of Lil Wayne and Birdman legal jousting gets wrapped up quick and amicably.