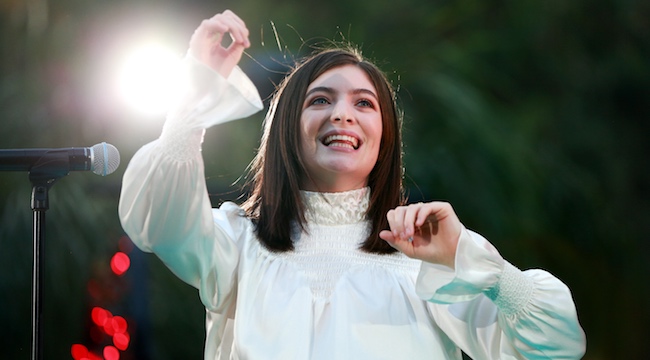 Lorde begins her North American tour tomorrow, and she'll be hitting the road with a stellar supporting cast: Tapped to open for her are Run The Jewels, Tove Lo, and Mitski. She's celebrating the occasion with something pretty neat: A remix of "Supercut" by Run The Jewels that totally turns the song on its head, turning the driving pop tune into something more in line with RTJ's ominous vibes (with an added RTJ verse as well).
https://twitter.com/runjewels/status/968964112456790016/photo/1

She shared the remix (which can be heard here) in an email newsletter, in which she expressed her profound excitement about the track, writing, "I love it. So much. My little nerd heart is full." She also talked about what it's like getting ready to play arenas for the first time:
"Hope you've been good. I've been reading a lot of Joan Didion and thinking about making my own quilt — oh, and rehearsing the upcoming North American leg of the Melodrama world tour, NBD.

I really love this show — it's so different for me. We've never played arenas before, and this is by far my biggest show in each city we're visiting, which is awesome. Pretty cool to think about us being in tiny clubs and theatres for Pure Heroine, and now I have a little Razor scooter to get me around the venue lol!

I hope you love the show too. It's gonna be super fun to have Run The Jewels and Rove and Mitski running around with us too — make sure you check out their sets."
This isn't Lorde's first hip-hop remix: She previously got Khalid, SZA, and Post Malone to contribute to a new version of "Homemade Dynamite," so revisit that here.