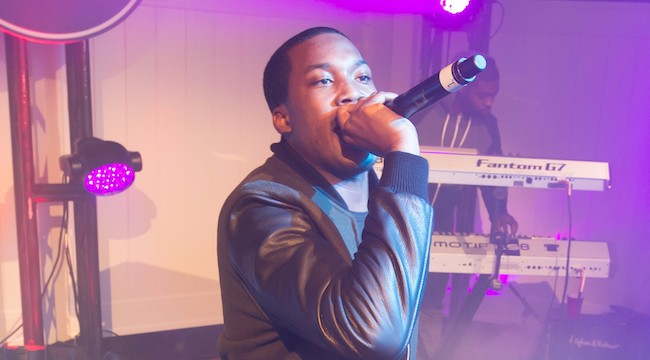 Update: Meek's request was denied by the Pennsylvania Superior Court today. It has now been sent to a lower court for review.
According to a new report from CBS Philadelphia, Meek Mill's lawyers have filed an emergency motion to get the incarcerated rapper released on bail after Judge Geniece Brinkley, the presiding judge over his case, has failed to respond to repeated requests for appeal. Brinkley sentenced Meek — real name Robert Williams — to 2-4 years in state prison for violating his probation when he was arrested for whipping a mini-motorcycle on the streets of New York City.
Brinkley has been criticized by Meek's lawyers and others for having dubious motivations in the rapper's case, including allegedly ordering the rapper to drop his management and maintaining relationships with Philly music figures. These make her judgment suspect at best.
The lengthy sentence has been criticized by many high-profile public figures, including Rev. Al Sharpton, who visited the rapper in prison just yesterday and said that his punishment is representative of "tens of thousands" of people nationwide who are victims of "an abusive probation and parole system," and Jay-Z, who wrote an op-ed in the New York Times skewering both the decision to imprison Meek for his violation and the probation system as whole as well.
Meek has drawn the support of many in hip-hop as well, with T.I., Rick Ross, and others showing solidarity with a "Free Meek Mill" rally in Philadelphia.