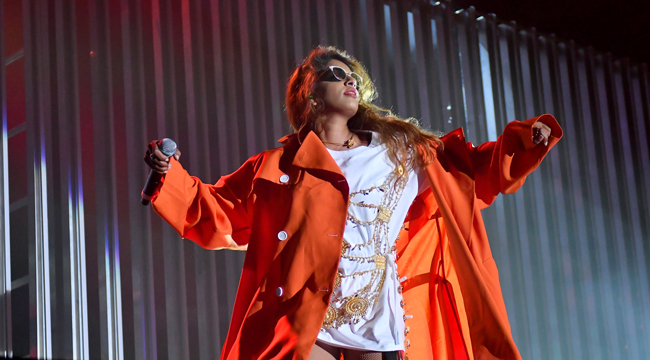 Despite early reviews of the film being positive, a recent sit down with Billboard finds MIA uncertain about the new documentary that covers her life, now showing at the Sundance Film Festival.
"I mean, what's left to tell?"
After screening the film at Sundance, MIA told Billboard that she was disappointed it didn't focus more on her music. "If you squash all the music together from the film, it makes for about four minutes," she says. "I didn't know that my music wouldn't really be a part of this. I find that to be a little hard, because that is my life. It's not the film that I would have made."
It's revealed in the same interview that the film focuses instead on "the complex origins of MIA," contextualizing her music and persona within her work as an activist. It grapples with her earliest history, having to reconcile the fact that her father was a revolutionary and part of the Tamil Tigers, a militant organization with the goal of creating an independent state for the Tamil people. They were labeled terrorists by many countries. The film follows her as that past weighs on her own pursuit of fighting global injustices and as she moves from being Sri Lankan refugee to London teenager to international pop star.
MIA's response to the film is also understandable given its fraught history. Directed by her longtime art school friend Stephen Loveridge, the documentary was first teased with a trailer that came out in 2013, with a comment from Loveridge saying he'd "rather die" than finish it, and any and all mention of the film soon disappeared. But he continued to work on it over the next four years.
The aim of the film is to help shed some light on the complicated pop star, one who finds herself and her actions so often misunderstood. Above all else, MIA says she hopes the film helps provide some clarity because ultimately she knows her actions speak for themselves. "It's unusual, so it can be misunderstood, but on the other hand, it is kind of empowering for people in the wrong sense, so they try to snub it out," she says. "If I'm going to be penalized whenever I say 'stop killing people' — if that is the worst thing that you can do as a human being and be scrutinized because I advocate peace — then I don't mind being trampled, because you just have to believe in it."