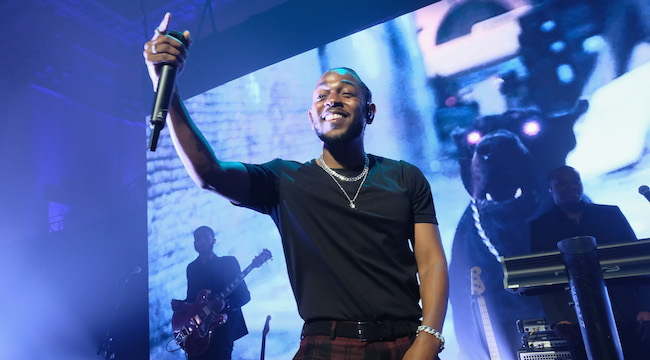 The good folks at The Pudding, using fancy math and advanced statistics, have determined both the most hip-hop word and the least. While "sailed" pops up way less in rap than in other genres, many of the most hip-hop words are actually slang terms that arguably exist because of hip-hop. By the way, the most hip-hop word is "chopper," which is a fact you can now use to impress your friends at parties. Those facts shouldn't come as a surprise to anyone who listens to a lot of rap, but the Pudding study actually reveals a ton of other interesting facts about how rappers use words and the similarities — and differences — between different rappers' vocabularies.
For instance, the study found that of the rap lyrics used in the dataset (50,000 songs comprising 26 million words from the top 500 charting rappers on Billboard's Rap Chart), "Compton" was only used by about 75% of the artists listed. And yes, those include all the names you'd expect: Kendrick Lamar, DJ Quik, The Game, and of course, NWA.
The study also examines and compares lyrics that characterize individual rappers' lyrics. For example, The Geto Boys were quite fond of the word "muthaf*cka," Canibus liked to toss around "infinity" a whole bunch, and many rappers love to shout-out their hometowns, as you could probably tell from the "Compton" example above. Also, quite a few rappers' who started out within the last seven years top lyrics include their rather unique, individualized adlibs — "Yah" for Dej Loaf, "Skrrt" for quite a few rappers, and even "Nana" for Chance The Rapper.
This approach reveals some fascinating links; for instance the rapper most similar to Meek Mill is actually… Juelz Santana. T-Pain has the most in common with Wiz Khalifa, while intriguingly, Kid Cudi is most similar to J. Cole.
To see for yourself how rappers' lyrics compare, you can visit The Pudding's interactive study site and play around with the sliders. It's pretty fun stuff for rap junkies and hey, you just might learn something new.