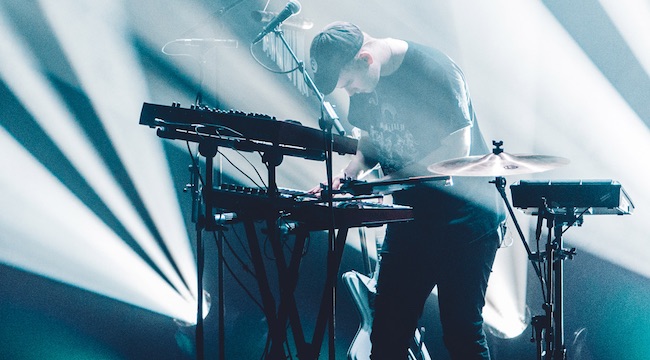 In the car the other day, a song came up on my friend's playlist that sounded like a hit. It had squeaky, cassette-static production, a smoky, soulful vocalist, and thick, bass-heavy beats that exploded at their ends like confetti into synth riffs. It was massive, yet understated, an elegant bludgeon of sharp, dark pop. I'd never heard it before, but the sound was instantly familiar.
For her part, my friend was shocked I'd never heard it — you don't know Mura Masa? she asked, incredulous. And somehow, despite working in the industry that he's currently beginning to dominate, I was still unfamiliar with the British beatmaker. But for anyone else reading this who may be in the same boat, that won't be the case much longer.
Alex Crossan, better known as Mura Masa, was born and raised in Guernsey, a tiny British island that's located off the coast of France. Growing up on a healthy diet of Cashmere Cat, SBTRK, Hudson Mohawke, and James Blake — along with early influences from iconic British rock bands like Gorillaz and The Smiths — Crossan's synthesis of old and new sounds makes him both accessible and influential in the pop space.
[protected-iframe id="eb6762402caf940e042be3ae62e60d7e-60970621-76566046″ info="https://open.spotify.com/embed/track/21pNGvUyQ8NjcfRrzge25F" width="650″ height="380″ frameborder="0″]
As the radio shifts darker and more abstract, and becomes more indebted to hip-hop than ever before, Crossan's propensity to cherry pick rap collaborators for jazz fusion tracks, mix elements of old world house with rising R&B stars, and use glittery, synth production to offset new indie-pop vocalists has defined him as both a producer/tastemaker who transcends the tradition of genre.
Discovered after uploading tracks to Soundcloud while he was in college, Crossan quickly sprang up all over influential tastemaking blogs and began to dominate in streaming with early hits like 2015's "Firefly" featuring Nao.
But not just that — his musical perspective is slowly but surely bridging the gap between the glitchy pop sound that defined internet stars of the early 2000s and the bonafide pop hits that top Billboard charts and become inescapable earworms in commercials and at award shows.
The song my friend played for me, for instance, was his 2016 track "What If I Go?" featuring Dublin-raised singer Bonzai, whose work with Mura Masa on two tracks for his debut album earned her a feature in UK Vogue. Sitting at over 50 million streams on Spotify, the song also has 25 million plus views on Youtube and helped introduce the producer himself back then, when he was still readying songs for his eventual self-titled full-length in 2017.
In a deconstruction video explaining the process behind the track for Genius, Crossan namechecks Caribbean steel drum bands in Brixton for their influence on the melody, eager to give credit where its due. That's another factor that sets Crossan apart as a producer, he's collaborating with and openly referencing and respecting the sounds of other cultures, not appropriating or lifting them without credit. His work helped propel Bonzai into the spotlight, and his frequent collaborations with the rising British vocalist Nao have done the same for her work.
A Mura Masa song is pop in that it combines the influences of hip-hop, R&B, and electronic music into one cohesive form; it's a pop song without the confectioner's sugar sheen of a Max Martin or other more mainstream pop producers. One other element that sets Crossan's production apart is his ability to shape the heft and tonality of a vocalist, bringing soulful singers up to a chipmunk-chirp pitch for key moments in the song, and building a signature sound through that process, even when working with loads of different vocalists.
Across the thirteen tracks of his debut album, he worked with artists as diverse as Damon Albarn, A$AP Rocky, Jamie Lidell, Charli XCX, and Desiigner. His track with A$AP Rocky — "Love$ick" — became another huge hit for the producer, and it even hit a few of the smaller Billboard charts like Rhythmic Songs and Hot Dance/Electronic songs, laying the groundwork for his eventual breakthrough there. As for the album, it quickly earned him recognition from the Grammys, who nominated him twice, for Best Electronic Album and Best Recording Package.
And after a massive year surrounding his debut, Crossan has simply continued pushing. This summer he released yet another song with Nao, "Complicated," which has quickly racked up even more acclaim for both parties. In the three months since its August release, the song has 6 million streams on Spotify and over a million and a half views on Youtube and rising. Another one-off release from this June, "Move Me," featuring Grime rapper Octavian is hovering around 3 million views on Youtube, a fitting prelude for the French-British rapper's breakout tape Black Butter released this past September.
As Mura Masa racks up millions of streams on Youtube and Spotify, he's poised to break through the Billboard charts with a true hit at any moment and become a household name. His proven track record for thumbing artists right before they hit it big is establishing him as a tastemaker in his own right. With just a single album under his belt at the age of 22, Crossan will is on track to have a hugely successful career in the near future.
Crossan is an industry outsider with an ear for other future stars in the making, all it takes is one track to turn someone with no knowledge of Mura Masa from a stranger into a fan. He won't be a secret superstar much longer, so get familiar before he's an inescapable part of pop music.