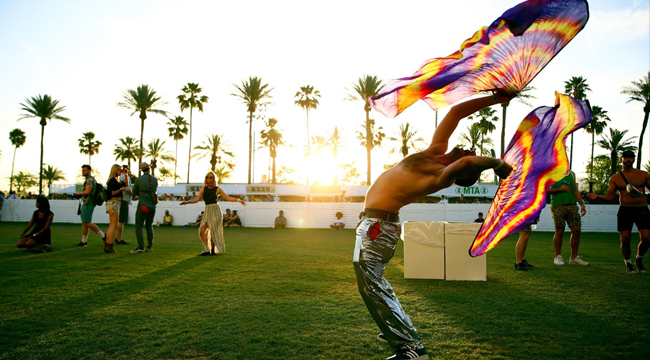 At the beginning of last week, the general public really didn't have much idea what the 2018 music festival landscape would look like, besides that Beyonce would headline Coachella. Now in just the second week of January, the 2018 prospects look particularly bleak. For years, writers have preached of a festival bubble bursting, so much so that it seemed like it was happening in real time. But in 2018, it seems even worse than a loud pop. Maybe this is how festivals end, not with a bang but a whimper.
Six of America's big, well-established, multi-genre festivals have already announced their lineups for 2018: Alabama's Hangout, California's Coachella, New York's Governors Ball, Boston's (obvs) Boston Calling, Georgia's Shaky Knees, and Tennessee's Bonnaroo. Among those, Eminem is headlining four of the events, and is the top-billed headliner at all of those but Coachella. Shady's bona fides don't need to be stated, but the fact remains that he's supporting what is generally regarded as a bad album and is only four years removed from his last run of tours and festival headlining appearances. That's only slightly longer out of the spotlight than Jack White, who was last headlining festivals in 2015 and has returned to top three of these posters this year. If anything, White holds more luster because at least he represents unheard music from 2018. At the time of the scheduled performances, the hope is that White will be at the height of his 2018 relevance.
Among these six festivals, there are 12 total headliners: Em, White, Bey, The Weeknd, Travis Scott, Yeah Yeah Yeahs, Queens Of The Stone Age, The National, Muse, The Killers, The Chainsmokers, and Kendrick Lamar. Of those, only Em, White, and Bey are unique to 2018, as all of the others toured last year, most of them extensively. So if looking at these top lines has caused a general sigh or groan from music fans, it's for a reason.


If you think this is the way it has always been, well, that simply isn't the case. In 2017, the same six festivals offered up 15 total headliners (16 if you include Beyonce's canceled Coachella set): Radiohead, Beyonce/Lady Gaga, Kendrick Lamar, Tool, Chance The Rapper, Phoenix, Childish Gambino, Mumford & Sons, The xx, LCD Soundsystem, U2, Red Hot Chili Peppers, The Weeknd, Twenty One Pilots, and Frank Ocean. And if you go back the two previous years, you have 18 and 17 unique artists headlining those same six festivals.
– 2016: The Weeknd, Calvin Harris, Florence + The Machine, LCD Soundsystem, Guns N Roses, The Strokes, The Killers, Kanye West, Beck, Sia, Disclosure, Robyn, Odesza, My Morning Jacket, Jane's Addiction, Pearl Jam, Dead & Co, and J Cole (18 total artists)
– 2015: Foo Fighters, Zac Brown Band, Beck, AC/DC, Jack White, Drake, The Black Keys, Florence + The Machine, Deadmau5, Pixies, My Morning Jacket, The Strokes, The Avett Brothers, Wilco, Billy Joel, Mumford & Sons, and Kendrick Lamar (17 total artists)
It's easy to want to put the blame for the lack of creativity in these festival bills on the wave of larger concert promoting corporations that have swooped in and purchased stakes in many of these events, and that is certainly part of the story. Goldenvoice (part of AEG) is involved in both Coachella and Hangout, while Live Nation owns a controlling stake in both Bonnaroo and Governors Ball. When a company owns numerous festivals in markets across the country, often it makes sense to book artists for several at a lower rate, improving their bottom line at the risk of losing its individuality.
That doesn't mean that these festivals are without their unique bits of personality. Gov Ball is the only fest so far to have N.E.R.D., The Gaslight Anthem reunion, Diplo and Mark Ronson's Silk City debut, and CHVRCHES on their lineup, all of which weren't playing events last year. Meanwhile, Coachella offers artists like Cardi B, Jamiroquai, Soulwax, and A Perfect Circle that feel like unique gets. Elsewhere, you can catch The Distillers and Tenacious D at Shaky Knees or two special Bon Iver sets, Sturgill Simpson, and Sheryl Crow at Bonnaroo, while it's really hard to sort out a signature artist for Boston Calling or Hangout. But even with most festivals able to secure a few signature acts, the overlap has become so great that some ideas, like traveling for a festival or hitting up multiple in the same season, feel antiquated. If a certain artist isn't playing the festival in a certain area, don't worry, they are likely touring before, during, and after their festival run.
When many of these festivals were established, each had their own flavor and brand. Coachella could veer towards punk, hardcore, IDM, and long-awaited reunions, while something like Bonnaroo was the place to get more jam bands and country than a typical fest. And while it is certainly expected that all of these events grow and evolve with the times, it's surprising to see that they've evolved into the same festival. It's no secret that some of our longest-running music festivals — Coachella excluded — have had trouble with ticket sales in recent years, and this has to be a factor in that.
For anyone that says there aren't other options for these fests, already announced tour dates argue otherwise. Justin Timberlake seems like a no-brainer to perform in his native Tennessee for Bonnaroo, while last year's Roo headliners U2 already have a US tour planned during festival season. Taylor Swift has a run of concerts scheduled and would be a coup for any festival that could nab her. Abroad, the likes of Depeche Mode, Pearl Jam, Florence + The Machine, Tame Impala, Gorillaz, Nine Inch Nails, Ozzy Osbourne, Nick Cave, Bjork, LCD Soundsystem, and Arcade Fire have all popped up on lineups. And that's not to mention some giant artists not that far removed from touring, like Jay-Z, Katy Perry, Harry Styles, and Sam Smith.
Of course, it's not always that simple. Tour routing can play a big factor, as can exclusive promotional partnerships. And probably the biggest factor is money. Anyone that's heard of one-off concerts from Kanye West or Beyonce playing for some foreign dignitary knows that enough money can get just about anyone at your event, but the fact remains that music festivals have reached a comfort zone where extending themselves doesn't seem cost effective, and the prestige of booking truly singular events is not seen as having enough value. It's not a surprise that boutique festivals are seeing such a surge, as they are able to showcase unique visions as well as the turning their own city into part of the attraction. Likewise, larger events like San Francisco's Outside Lands or Houston's Day For Night that aren't tied to the massive promotors are blowing other festivals out of the water with their bill, both in its creativity and in its reach. It just doesn't seem like that long ago when this was the norm, not the outliers.
So sure, maybe Justin Timberlake didn't want to play Bonnaroo because he's planning his own Nashville shows, or because he co-produces nearby Pilgrimage Festival, or because he's planning to play the fest next year, or because they simply refused to pay him enough. And maybe there are similar reasons that many other artists failed to get booked this year's music festivals. But the fact of the matter is that the reasons why they are coming up short don't really matter. What matters is that the product they are turning out is noticeably worse than it has ever been before, with no signs of improving. When only two of the dozen artists booked to headline these major American music festivals in 2018 are women or fronted by women, the problems are far beyond the simple quality of the headliners.
Today, the Goldenvoice co-produced Firefly Music Festival in Delaware announced its lineup, with Arctic Monkeys serving as one of its headliners for their first announced concert in three years. Unfortunately, the festival's other three headliners — The Killers, Kendrick Lamar and, of course, Eminem — only exemplify this discussion. And if music fans everywhere are continually underwhelmed by what festivals are serving up, then the live music industry could be in for a major change.