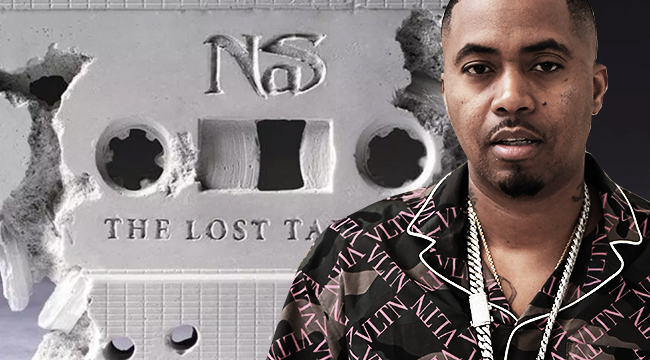 It's only been a year since the release of Nas' last album, Nasir, but the 25-year rap veteran is already preparing the release of his next album, The Lost Tapes 2. While sequel albums are a staple in hip-hop, The Lost Tapes 2 holds a special resonance with its predecessor. Rather than simply seeking to capitalize on the success of a well-received, commercially lucrative album like many of his peers, Nas looks to The Lost Tapes 2 to repeat a feat that the original accomplished for his career: Revitalize his musical reputation after a string of bumps to both his standing in hip-hop and his ego.
In 2002, Nas' back appeared to be against the wall, in more ways than one. While the prior year's Stillmatic was seen as a return to form for Nas after the critically lukewarm reception of the glitzy albums I Am… and Nastradamus, some hip-hop fans were still skeptical that he could sustain his required footing in their hearts. For one, Stillmatic drew on the nostalgia of the Illmatic title — an album he had yet to surpass or even match in the eyes of many. For another, Stillmatic was an album largely fueled by his feud with Jay-Z, packed with spiteful burners like "Ether," "Got Ur Self A Gun," and even the passionate "One Mic," which suggested he needed something to rail against to find his creative fire.
The Lost Tapes solidified his reestablished credibility as far from a fluke. Tracks like "Nothing Lasts Forever," "No Idea's Original," and "Poppa Was A Playa" were lyrically dextrous, emotionally sonorous, and autobiographical. In many ways, it was a more worthy successor to Illmatic than Stillmatic was. That the project was crafted from material culled from prior projects' recording sessions was an even greater testament to Nas' supreme ability, skill, and talent as an artist. The Lost Tapes said, "See? He had it in him all along, if only there weren't pesky commercial obligations standing in the way." Releasing it as a compilation freed it from the chains and thus, brought forth the best version of Nasty Nas in a decade.
Unfortunately, that statement proved to be something of a red herring. While the combination of Stillmatic and The Lost Tapes righted the ship for a while, changing social mores, the increasing speed of technological advancement, and Nas' own tin ear for beats produced some up-and-down efforts over the next 17 years. While many of his projects, namely God's Son, Hip-Hop Is Dead, and Life Is Good were generally well-received, others were mostly forgettable or outright bad. Even the good albums contained high concept clunkers ("Sekou Story" and "Live Now" from Street's Disciple, "Who Killed It?" from Hip-Hop Is Dead, every damn thing about Untitled) that eventually earned Nas a modern reputation of being perhaps too creative for his own good.
Nas' conceptual goofiness and antediluvian ways culminated last year on the Kanye West-produced, slapdash Nasir. While some hoped having one of hip-hop's greatest modern producers at the helm could help curb Nas' tone deafness when it comes to beats, instead, Kanye and Nas brought out the worst in each other. Kanye's habit of perfectionist tweaking and Nas' procrastination (cited as the main reason for the disjointed construction of some of his worst projects) played into an increase in crotchety rhetoric from the lyrical wizard and poorly paired beat/lyrics combinations. They did little to address the various controversies that played out surrounding the project's release: Kanye's Trumpism, Kelis' recent accusations of abuse against Nas, Nas' own conspiracy theorizing (Nas' anti-vaccine views have cropped up before, but talk about your bad timing). Nasir, plainly, was a dud that fell far short of expectations. Sound familiar?
Now, Nas finds himself in a bizarrely similar situation to the one that spawned the original Lost Tapes. Although this time there's no Jay-Z to rail against and no Stillmatic to right the ship, so The Lost Tapes 2 will have to do double duty of once again reestablishing Nas' footing as both a critical and commercial force and solidifying his credibility as such, living up to the standard set by the original. It's off to a shaky start, with the lead single "Jarreau Of Rap (Skatt Attack)," indulging more of his weird sonic proclivities and receiving a mixed reception from fans.
Nas is also putting a lot more eggs in the basket this time around, giving the album much more promotional push and trumpeting its production guest list, which includes a number of his higher-profile production partners — particularly the ones with whom he's crafted some of his fans' favorite tracks. The Alchemist, No I.D., Pete Rock, Pharrell, RZA, and Swizz Beatz are all listed along with Kanye. Presuming the tracklist is once again pulled from prior projects' sessions, including the beloved Life Is Good, there's always a chance that The Lost Tapes 2 returns Nas' tarnished reputation to its former glory.
The Lost Tapes 2 is due July 19 via Mass Appeal and Def Jam Recordings.