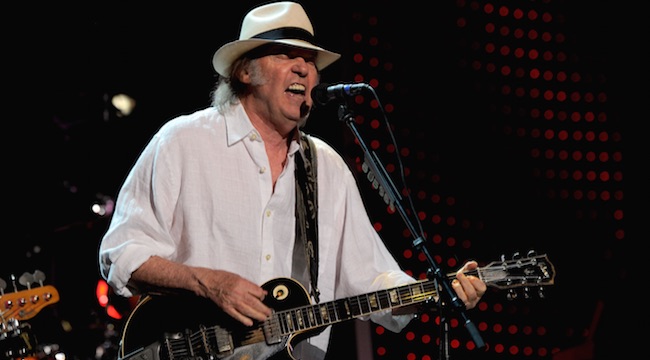 Donald Trump has gotten pretty used to taking shots from different musicians and actors over the last year and a half. But for the man who occupies the Oval Office, this latest swipe from Neil Young almost certainly has to sting. You see, Trump is a pretty big fan of the legendary singer, even using his song "Rocking In The Free World" on the campaign trail. If Young's latest song is any indication, the feeling is not at all mutual.
Titled "Already Great," the new rock track, recorded with the band Promise Of The Real, seems to take a not-so-subtle swipe at Trump and his "Make America Great Again" Army. The politically outspoken Canadian goes so far as to cite the resistance against the current regime, singing that people should , "Stand up for what you believe / Resist the powers that be." As for the sonic make-up of the new song, there are some definite, edgier, Crazy Horse-esque rock vibes here, that will no doubt make fans of Young's jammier work very happy.
Neil Young's new album The Visitor arrives on December 1st. You can check out the full tracklist below.
1. "Already Great"
2. "Fly By Night Deal"
3. "Almost Always"
4. "Stand Tall"
5. "Change of Heart"
6. "Carnival"
7. "Diggin' A Hole"
8. "Children of Destiny"
9. "When Bad Got Good"
10. "Forever"