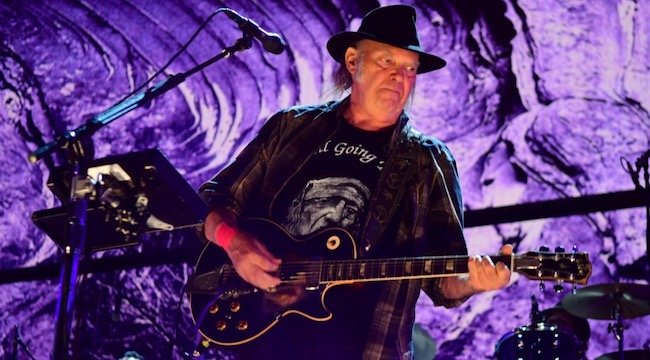 There are many adjectives you can use to describe Neil Young, but chief among them would probably be "unpredictable." For 50 years and more, Young has kept his fans guessing with what he plans on doing next, whether that means working with Crosby, Stills, Nash & Young, getting into electronic music and making an album like Trans, or more lately collaborating on some truly weird albums with the band Promise Of The Real. Last night, in Fresno, California, Neil took another left turn, by playing his first gig with his iconic band Crazy Horse in four years.
Joined onstage by mainstay drummer Ralph Molina and bassist Billy Talbot, the lineup of the band was a little different than it had been in the past with Nils Lofgren on guitar instead of Frank "Poncho" Sampedro. Missing only pedal steel guitar player Ben Keith who sadly died in 2010, it was actually the same configuration of players that helped Neil record his seminal 1975 album Tonight's The Night, a group he dubbed the Santa Monica Flyers.
The show was filled with an array of deep cuts and classics from Neil's immense back catalog. Claiming that they hadn't rehearsed at all, there were a few technical difficulties and missed cues here and there, but for the most part, the band sounded phenomenal, playing songs like the show-opener "Big Time," "Winterlong," "Cinnamon Girl," "Cortez The Killer," and "World On A String" to name just a few.
The show was the first of five announced gigs by Neil and Crazy Horse, with another two set to go down tonight and tomorrow at the same venue in Fresno, followed by a pair of shows in Bakersfield, California. With a whole slate of festival dates penciled in with Promise Of The Real, its unknown at this time if the renewal with Crazy Horse is merely a detour, spurred by the release of Neil's latest archival release, Roxy: Tonight's The Night Live, or something more permanent he hopes to ride into 2019 with. Only time will tell.