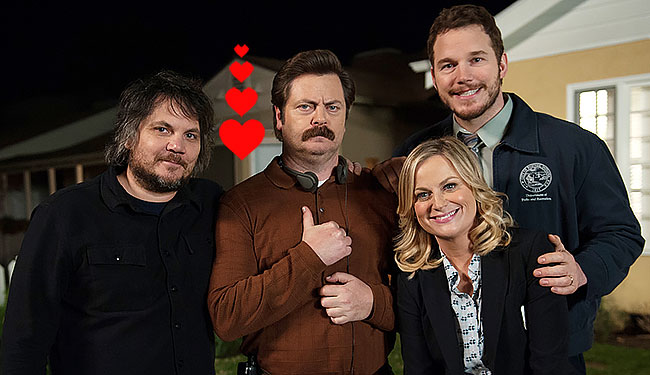 Bob Dylan is the voice of one generation, and Lena Dunham is the voice of another, obviously. But there's a substantial age gap between the two. According to 44-year-old Nick Offerman, his generation is defined by the lyrics of Wilco's Jeff Tweedy. Salon has an excerpt from the Parks and Recreation star's Swanson-y titled new book, Gumption: Relighting the Torch of Freedom With America's Gutsiest Troublemakers, where Offerman praises Tweedy, who lived the American dream by jamming with Ginuwine, Letters to Cleo and Yo La Tengo in Pawnee.
Jeff Tweedy is really nice. Jeff Tweedy is really smart. And Jeff Tweedy is really, really cute. He's what the young ladies of a bygone era would refer to as a "dreamboat." For my money, he's also the preeminent American singer-songwriter of my generation. Finally, I would add that I am in love with him. We are getting married. The end.
Offerman's particularly fond of Yankee Hotel Foxtrot:
…the noble troubadours of Wilco had produced an exciting, new and creative rock-and-roll album, paying no heed to current fashion or radio popularity, as they never have, and they got AOL Time Warner to pay them for it. Twice.

That kind of happy ending doesn't seem to happen to artists who are striving for fame and fortune. By sticking to their creative guns, Wilco ended up being rewarded exponentially more than they would ever have had they been trying to produce radio hits or merely capitalize on their cute faces. Especially Jeff.
Jeez, get a room, you work-proximity acquaintances.
(Via Salon)