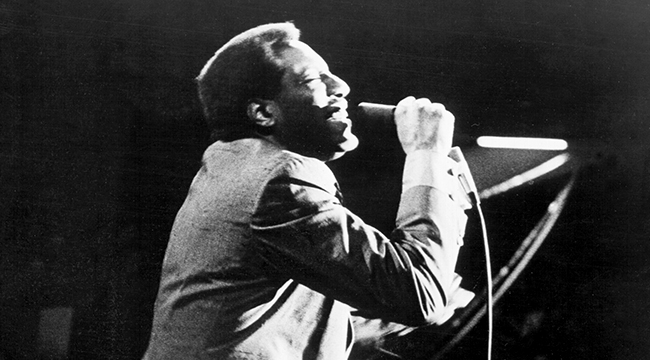 Lake Monona is a wide, flat expanse of open water. Ringed by lush trees, quaint homes, and the Wisconsin state capitol building, at the moment you're standing on its shores, listening to the gentle waves lap against rock and sod, it can feel like the most idyllic place on the planet. That ethereal tranquility was shattered on December 10, 1967 on a cold and foggy afternoon when a Beechcraft 18 cracked the lake's gentle surface and quickly submerged into its murky depths. Seven of the eight passengers aboard the plane were killed, including one of the greatest soul singers the world has ever known.
Otis Redding was only 26 years old when his life was cut tragically short. Given that truncated span however, he used his God-given talents to craft a legacy that would span generations. As a singer, he could alternate from tender vulnerability to raging, volcanic fury on a dime, expressing through his voice nearly every shade of the human condition. As a showman, there was hardly anyone this side of James Brown capable of matching his flashy, eye-popping histrionics. And as a songwriter, his compositions, though seemingly simple at first glance, contained multitudes that continue to reverberate through car speakers and hi-fi units around the globe.

The loss of Otis was especially cruel considering what could have been, had he remained amongst the land of the living. Over the course of 1967, his skills and acumen as a songwriter had not only sharpened, but deepened. So had his powers as an entertainer. The pinnacle of his career came in June when he was booked to appear at the Monterey Pop Festival, just a two-hour long drive south of San Francisco. Included among a bill that featured The Who, Jimi Hendrix, Janis Joplin, and almost every other up-and-coming name in the counter-culture rock scene, Otis damn-near stole the entire show. Backed by Booker T & The M.G.'s, the de facto house band at Stax Records, the soul singer hit the stage just after 1 AM, just as the clouds opened up and sprinkled light droplets of water on the heads of those gathered before him.
Beginning with his nitrous oxide-fueled take on Sam Cooke's "Shake," the be-suited singer gave the worn-down crowd the exact kick they needed. He stomped, he shimmied, he sang with a fire and passion that defied both logic and reason, bringing a little bit of Georgia countryside to the shores of the Pacific Ocean. "This is the love crowd right?" Otis asked the homegrown hippies gaping at him down below. "We all love each other, don't we? Am I right?" They certainly loved him. Bob Weir of the Grateful Dead later remarked that watching Otis that night made him feel like he had "seen God onstage."
At Monterey and beyond, Otis sensed a change in the atmosphere and was determined to change with it. In October, he underwent surgery to repair his vocal cords. For two weeks, he couldn't speak, much less sing. While convalescing, he decided to grow out a beard to the bewilderment of his wife. Once he was finally able to regain the use of his instrument, she demanded that he shave it off, but he refused. As she recounted in Jonathan Gould's expansive biography Otis Redding: An Unfinished Life, "He said, 'When I go back out it's going to be the new Otis Redding. I've got to change my style now. People are tired of hearing me plead and beg. I've got to be different. I'm gonna be new.'"

The impact of The Beatles' magisterial Sgt. Pepper's Lonely Heart's Club Band was felt by everyone in that so-called "Summer Of Love" but few internalized it to the degree of Otis. While many gawked at the Fab Four's brilliant, psychedelic textures, Redding was busy parsing the infrastructure. Taking a cue from John Lennon who sat down and lifted mundane sections from a newspaper to create his opus "A Day In The Life," Otis decided to have a look around himself. While staying in Sausalito that August after a gig at the Fillmore, he gazed out at the "Frisco Bay" and penned what he saw. He studied the ships as they rolled in, then rolled out. He noted the tides. He felt the weariness in his bones as he thought back to his home in Macon.
When he returned to Stax Studios in Memphis in November, he brought his observations to the guitarist Steve Cropper who helped him put it together in a new song called "(Sittin' On) The Dock Of The Bay." They recorded it over three takes on December 7. Already an incredible piece of music, the song took on an extra added dimension when it dropped less than a month after his death. Its tender melodies, whistle-solo and seagull squawks, not to mention the rather dark line where he sings about having "nothing to live for" struck a chord with his audience still trying to come to grips with his absence.
The three weeks he spent in Memphis before taking off for a run of live shows in the Midwest were maybe the most fruitful period of songwriting and recording he enjoyed throughout his entire career. In addition to "(Sittin' On) The Dock Of The Bay" he also cooked up a bevy of additional material, the majority of which would make its way onto the posthumous release The Immortal Otis Redding that hit the following year. Otis was clearly excited about the future, and incredibly grateful that his voice hadn't left him in the wake of his procedure. "We just couldn't record enough," Cropper recalled. "When the band would leave at night, we'd break and go have a little dinner somewhere, and come back to the studio and start recording."
On December 8, Otis swung by Stax Studios to check in on Cropper, then boarded his plane to make it to a well-received gig in Nashville. The next night, he and his band the Bar-Kays performed at 700-seat club called Leo's Casino in Cleveland, taking over for The Temptations who had played the same venue the previous evening. At noon that Sunday, December 10, Otis and the rest of his band met up with the pilot Dick Fraser at the airport, and took off to make it to the gig at a venue called The Factory in Madison. Otis sat up front in the co-pilot chair.
Visibility was terrible that day. Fraser couldn't see the ground below him because of a thick fog of clouds that obscured his view. He was forced to rely on his instruments to guide the way, and set the plane on autopilot, which caused it to follow a series of radio signals toward Dane County Municipal Airport. Sometime around 3:30 PM, the plane made its final approach and Fraser lowered the landing wheels. A few moments later, the plane suddenly stalled, and before it could soar over downtown, dipped nose-first into Lake Monona. Otis was immediately knocked unconscious by the force of impact, and was unable to escape his seat. His body was recovered by divers the very next day.
A few months back, I had occasion to visit Madison. While I was in town, I pulled my car into BB Clarke Beach Park, got out, and strolled along some of the lake's shoreline. There was a boat launch not too far from where I parked, and I couldn't resist the temptation to walk its weathered planks and have a seat. Sitting there, gazing out at the massive, opal expanse, my mind turned to Otis. I didn't consider his final moments just then, but thought about the electric performer and the gentle soul. I thought about what might've been. As the sunlight refracted off the water, and ducks glided by, I took my phone out of my pocket and hit play on "(Sittin' On) The Dock Of The Bay" letting Otis's voice mingle with the wind, and the birds, and the waves. Just wasting time.