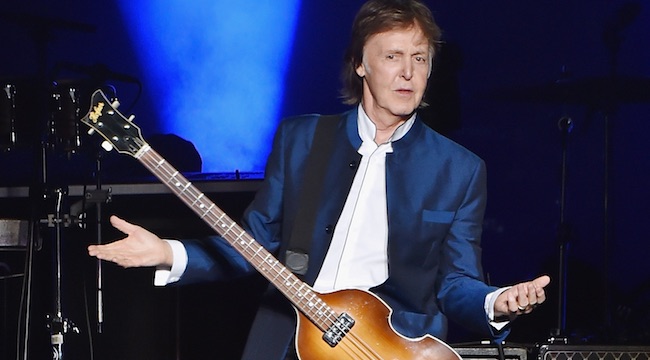 2018 has been quite the year for Sir Paul McCartney. Even though he literally helped change the sound of popular music in the 1960s with the Beatles and experienced tremendous success with his '70s group Wings, and could sell out any arena in the world practically with almost zero promotion or advanced notice, it has still been over three decades since he last logged a No. 1 album. That drought finally ended however with the release of his acclaimed solo endeavor Egypt Station.
One of the standout tracks from that particular record was the ebullient single "Come On To Me," and today Macca has decided to share a brand new video to go along with it.
One thing you won't find in the new clip is McCartney himself. No, instead it stars someone named Fred "Little Freddie" Maxwell playing the part of a mall cop flashing his best and most buoyant dance skills in the dead of night while the stores are all empty. It's a fun video, and McCartney wants you to get in on it, encouraging fans to post their own clips on social media of themselves dancing to the song with the hashtag, "#COTMChallenge."
Paul McCartney's latest album Egypt Station is out now via Capitol Records. You can listen to it yourself here, and watch the new video for "Come On To Me" above.