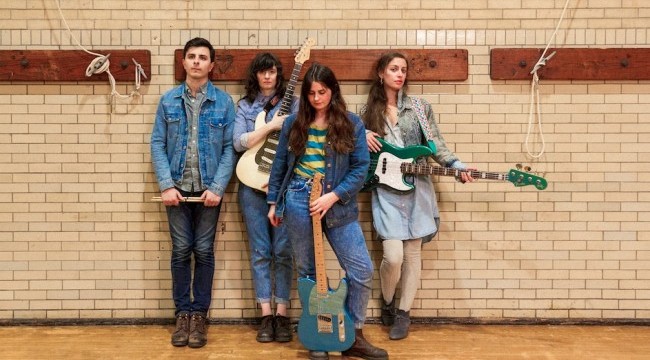 Only a few weeks after we premiered the excellent video for "More To Love," Philadelphia quartet Queen Of Jeans are back with another preview of their upcoming debut album, Dig Yourself. Placed smack in the middle of the record, "U R My Guy" was born thematically out of the tendency to categorize Queen Of Jeans as reminiscent of 1960's girl groups, immediately tokenizing their sound and pushing the band into a corner.
With "U R My Guy," the band elected to write to the girl group stereotype, but to take it to the extreme until it became a satire, the goal being to showcase the modernized sound of Queen Of Jeans as vocalist/guitarist Miriam Devora's lyrics play around with gender norms.
"We wrote this song as satire about those 60s girl groups that, while we are certainly influenced by musically, are often very problematic in their messages towards women," the band explained in a statement. "We wanted to flip the script and write a song in that genre that empowers women instead." Check out the excellent "U R My Guy" below.
Dig Yourself is out 3/30 on Topshelf Records, and is available to pre-order here. A hometown album release show is scheduled for 3/31, with a stacked bill also featuring Katie Ellen and Harmony Woods.