Who doesn't like a good ol' fashioned rap beef?
Since Kool Herc's first party in the South Bronx one summer day in August of 1973, feuds between MCs and crews have come and gone throughout hip-hop's history. Between 2Pac and Biggie, 50 Cent and Ja Rule, Drake and Meek Mill, Meek Mill and Beanie Sigel, there's really no shortage of a lyrical sparring match you can revisit and reminisce on. Even today, there's some bad blood between rappers that's just won't go away. We're still invested in seeing how Pusha T vs. Lil Wayne and Drake pans out. Hopefully, it produces a lot of great music and more exciting stories.
We've come a long way from Biggie's description of what beef is, as the internet has opened doors for MCs to battle on social media rather than strictly on wax. But sometimes rap beefs can get so one-sided that there's a clear winner. In those moments, you can just tell when one rapper will get destroyed by the other rapper. And the fans know it too.
Sure, these MCs eventually bounce back from the embarrassment. But it can be a long, grueling journey to win over the rap community again. Here, we dive deep into rap beefs that were nearly career-ending for some and how those missteps almost made them fade to black.

Chino XL vs. 2Pac
Year: 1996
Outside of 2Pac's personal rivalry with The Notorious B.I.G., 'Pac had some issues with New Jersey rapper Chino XL. It started with a misunderstanding of one of Chino's lyrics on "Riiiot!" off his debut album Here To Save You All. He rapped, "By this industry, I'm not trying to get f—ked like 2Pac in jail," and 'Pac thought he was feeding into the rumors that he allegedly got raped in prison. (It's been said that this was started by former Hot 97 radio personality Wendy Williams.)
'Pac's "Hit 'Em Up" was released just days before he had to serve 120 days in jail for violating probation on his assault and battery conviction in 1996. On the song, he goes after Biggie, Puff Daddy, Mobb Deep, and Chino XL. XL gets a direct line: "Chino XL: fuck you too! My .44 make sure all y'all kids don't grow!"
When 'Pac was doing his time, Chino did one response in a radio freestyle on Mr. Magic & Mister Cee 91.5 WNYE. Several of his rhymes were incredibly harsh, among them calling 'Pac a bisexual and his mother a dope fiend. "How many ni–as pray that Chino is a failure?/Still have lipstick on your back if Suge didn't bail ya," he spits with conviction.
In an interview with AllHipHop.com, XL admitted if he knew that his lyrics would have affected 'Pac that way, he wouldn't have said them. He also revealed he squashed their beef before 'Pac's death. "I was a fan of his like everyone else was. Everything was straight though and the Outlawz are my peeps from Jersey so it was all peace," he said.
But any 'Pac loyalist can tell you that "Hit 'Em Up" is hands down the greatest diss song of all time. Sorry XL, 'Pac got you.

Ice Cube vs. Common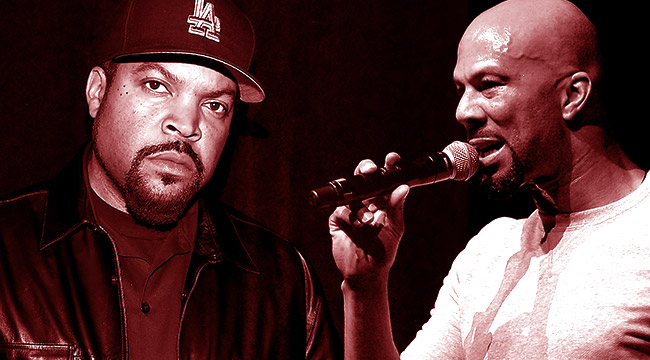 Year: 1994-1995
The East Coast/West Coast feud waged on when Ice Cube felt a certain way about Common's rhymes on "I Used to Love H.E.R," thinking that he was putting down gangsta rap. Common rapped:
"But then she broke to the West Coast, and that was cool / Cause around the same time, I went away to school / And I'm a man of expanding, so why should I stand in her way / She probably get her money in L.A…"
"Talking about poppin' Glocks serving rocks and hitting switches / Now she's a gangsta bitches / Always smoking blunts and getting drunk / Telling me sad stories, now she only fucks with the funk."
Cube interpreted that as a diss to West Coast hip-hop in general. On Mack 10's "Westside Slaughterhouse" featuring W.C., Cube didn't dance around his response to Common, seemingly going for the killshot in just four bars: "Used to love her, mad cause we f*cked her / Pussy-whipped b*tch, with no common sense / Hip-hop started in the West / Ice Cube bailin' through the East without a vest."
Common wasn't going to let those disrespectful words linger too long and responded back with "The Bitch in Yoo." He got a beat from Pete Rock and went to work, writing a devastating diss that ripped Cube apart. "A bitch n***a with an attitude named Cube / Stepped to the Com with a feud / Now what the fuck I look like dissing a whole coast / You ain't made shit dope since AmeriKKKa's Most" and even ended the song with his own rhyme from "A Bitch Iz a Bitch," "Any last words before I hit the switch / From the immortal words of one, a b*tch is a b*tch."
After the murders of Tupac and Biggie, Minister Louis Farrakhan of the Nation of Islam organized a hip-hop peace summit on April 3, 1997 in an attempt to unify the East and the West. What started as a lyrical fight took a positive turn when Ice Cube and Common hugged each other, officially ending their beef.
In retrospect, many argued that this battle harmed Cube's career. Five years after Lethal Injection, Cube released War & Peace Vol. 1 (The War Disc) that was met with unfavorable reviews, and in 2000, War & Peace Vol. 2 (The Peace Disc) was considered subpar compared to his earlier albums. Since he was already starting his transition into acting, Cube was moving on to other aspects of entertainment. But this fallout certainly didn't hurt his legacy too much.

LL Cool J vs. Canibus
Year: 1997-1998
In the late '90s, LL Cool J, one of the most decorated hip-hop veterans, went round for round against newcomer Canibus all because he took offense to a certain lyric on his song, "4,3,2,1." LL invited Canibus to join his posse cut that featured Method Man, Redman, and DMX, but his original verse mentioned LL's famous tattoo: "L, is that a mic on your arm? / Let me borrow that." He probably didn't mean for it to be an insult, but L thought it was so he had him re-do his verse and edit out the line.
Even after that, LL still took aim at him on the same song, rapping, "The symbol on my arm is off limits to challengers" and "If it ever left my side it'd transform into a time bomb/You don't wanna borrow that, you wanna idolize."
The pettiness didn't stop there. LL omitted Canibus from the original video because of their feud, which put him in a position to retaliate with "Second Round K.O." Co-produced by Wyclef Jean, Canibus ripped into LL's reputation with some words from boxing legend Mike Tyson as encouragement. "You studied my rhyme, then you laid your vocals after mine / That's a bitch move, something that a homo rapper would do," he rapped.
Of course, LL wasn't going to let him have that round. He answered with "The Ripper Strikes Back." Their war of words continued with Wyclef jumping into the fray for literally no reason ("Retaliation (What's 'Clef Got to do With It?)") and the two going at it again (LL's "Rasta Imposta" vs. Canibus' "Rip the Jacker" vs. LL's "Back Where I Belong").
In the end, Canibus' defeat was a mix of going against a seasoned battle rapper, dropping a lukewarm debut (Can-I-Bus) at the height of their beef, and struggling to gain commercial success after the critical praise of "Second Round K.O." LL practically handed him the L.

50 Cent vs. Ja Rule
Years: Early 2000s to now
50 Cent versus Ja Rule has become the benchmark for rap feuds, mainly because the countless disses and inevitable downfall of Ja Rule is a story that doesn't have a real ending yet. The exact origins of why Fif and Ja started going at each other are murky, but most magazines and websites date it back to the late 1990s when a friend of 50's robbed Ja of his jewelry. Ja reportedly told Irv Gotti, founder of Murder Inc., about the incident, who got Queens drug kingpin Kenneth "Supreme" McGriff involved. Supreme, using his intimidation, helped get Ja his stuff back.
There are other key incidents that fueled the fire behind this beef, too. In Ja Rule's book, Unruly: The Highs And Lows Of Being A Man, he details an altercation between him and 50 in Atlanta, where things got heated between their crews after they exchanged some words. Allegedly, Ja hit 50 with a bat. Another worth mentioning was 50 getting beaten and stabbed by Murder Inc.'s Black Child in front of the Hit Factory in NYC. Although he eventually recovered, he was infamously shot nine times a little later outside of his grandmother's house. Feds believed Supreme and associates of Murder Inc. were connected.
From the 2000s on, these two continued their feud in the streets through mixtape disses. Commercially, Ja Rule had an edge on 50 due to a string of Hot 100 hits ("Put It on Me," "Livin' It Up," "Always on Time"), four Grammy nominations, and made songs with DMX and Jay Z — something that could have been a supergroup if it all fell into place. But it didn't last long. Ja's waning popularity was apparent when 50's debut album, Get Rich Or Die Tryin' in 2003, sold 872,000 copies in the first week. Backed by Dr. Dre and Eminem, 50 clearly was the man running hip-hop at the time.
It's been almost two decades, and Ja is still struggling to recapture his glory days. Even after Ja admitted his lost to 50, they still reignited their beef on social media in 2015 when fans were trying to compare Ja/50 to Drake/Meek. Recently, Ja poked fun at his fall from grace in a commercial that depicts him as an ex-rapper turned Uber driver. Livin' it up?

Lil Wayne vs. Gillie da Kid
Year: 2006
Gillie da Kid was a former Cash Money Records artist who had an issue with the label's top brass — Brian "Baby" Williams and Ronald "Slim" Williams — over money and publishing. The Philadelphia rapper claimed as a signee he was a ghostwriter for other Cash Money artists, including Stunna and their biggest superstar Lil Wayne. Baby also saw Gillie's star power, and paired him with Wayne to be his mentor. According to Gillie, he says he wrote on Tha Carter, but claims he wasn't in the sessions for Tha Carter II.
Gillie was supposed to have a solo record under Cash Money, but once that never materialized, he was sidelined as a behind-the-scenes artist penning songs for other people. Gillie realized that the situation wasn't a good fit for him and left Cash Money and maintained his relationship with Wayne.
Likely out of loyalty to Birdman, Weezy struck first with a diss on "Problem Solver," rapping, "Gillie man, I don't think you ni—as should really fuck with me/The gun off me urgently workin' and twerkin' it perfectly." This didn't sit well with Gillie and he would appear on various street DVDs talking smack about Cash Money. It wasn't long until Gillie responded to the diss with a freestyle over "Cannon" going at Weezy, Birdman, and Slim.
Their feud continued with more disses; Wayne's Da Drought 3 had lines about Gillie on "Live From 504" and "Blooded." In response, Gillie dropped the personal "Frontin' Like Ya Daddy" over the "Stuntin' Like My Daddy" instrumental. After a while, the beef died down a bit and seemed to come to an end when Gillie saluted Wayne (who was locked up in Riker's Island at the time) in a ForbezDVD interview. "Hold ya head, ni–a. Real ni–a shit. Shout out to Wayne. You in there where it's real. You on the other side. I feel you with both hands and feet. Hold ya head, ni–a," he said.
Gillie's show of respect was a little too late. Weezy fans already written him off as a fraud and a liar for even thinking anyone could write lyrics for the Best Rapper Alive.

Azealia Banks vs. T.I.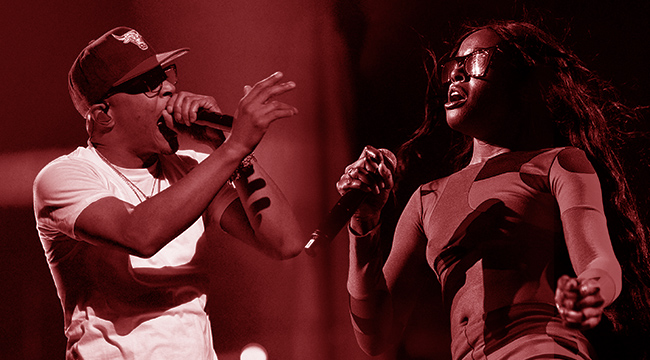 Year: 2014 — now
Azealia Banks has engaged in Twitter beefs with just about everyone, but especially had some venomous things to say about T.I. a few years back. It all started when XXL revealed their 2012 Freshman class that had Iggy Azalea, who won the fan-voted 10th spot, representing the female MCs on the list. The Harlem rapper took offense to seeing Iggy on the cover, referencing her song "D.R.U.G.S." and her "runaway slave-master" lyric. "Iggy Azalea on the XXL freshman list is all wrong. How can you endorse a white woman who calls herself a runaway slave master?" she wrote on Twitter.
T.I., who was her mentor and signed her to Grand Hustle, defended her in an interview with DJ Drama on ATL Hot 107.9. He also told Banks to focus on her attention in getting the Freshman list next year if she's so passionate about it.
"Strategically if she really cares about a Freshmen cover maybe she could hope that, you know, she'll suck enough to get shelved and then next year when the Freshmen cover comes back around, maybe she'll still be a freshman," he said.
Banks hopped back on her favorite social media platform and called Tip "corny" for what he said on the radio show, and offered a lengthier explanation:
"I questioned her artistic integrity because of insensitive lyrics," she says. "In fact the issue wasn't even really her. The issue was xxl. Why were the only three females nominated for that cover kreayshawn, v-nasty and iggy? Where was Rapsody, or Nitty Scott, or Angel Haze? But y'all niggas don't hear me tho."
He commented (again) about the brewing Banks/Azealia beef on WCGI's Morning Riot, saying, "I know they're going through their thing, but the fact that she's speaking upon me and mine, I ain't even see it. That is what I consider, and excuse my language, but that's b*tch shit. I'm a man… You ain't got no business addressing me. Get your man to address me."
Some odd years later, and Banks and T.I. still haven't made peace yet. For instance, when T.I. dropped his "No Medicore" single (which features Iggy), Banks disrespected his wife Tameka "Tiny" Harris by writing, "U want no mediocre but … Have you seen your wife?" The pattern continued after T.I. weighed in on Q-Tip's hip-hip history lesson directed at Iggy on Twitter, sending more mean tweets towards him. "This rant reeks of thesaurus and bamboozlement," she wrote.
As of today, Banks' Twitter account has been suspended. Meanwhile, Tip is still actively making music, becoming a voice for the Black Lives Matter movement with his politically-charged EP, Us or Else? It's a no-brainer who has been stacking the Ws in this feud.

Drake vs. Meek Mill
Year: 2015 to now
Coming off Dreams Worth More Than Money becoming No. 1 on the Billboard 200 chart in 2015, Meek Mill was on the cusp of becoming a top-tier rapper, but he needed to get something off his chest. On one July night, he called out Drake for not promoting his album on social media, and claimed he used Quentin Miller to write his verse for "R.I.C.O." "He ain't even write that verse on my album and if I woulda knew I woulda took it off my album….. I don't trick my fans! Lol," he wrote on Twitter.
It sparked a widespread debate over the acceptability of ghostwriters in hip-hop—not to mention names like Lupe Fiasco and OG Maco chiming in on the conversation and adding their two cents about Drake and the importance of authenticity. Drake's longtime producer, Noah "40" Shebib, defended him in a series of tweets and added "so if someone wants to be upset that Drake made a great album, go for it, get mad all day lol! but don't ever question my brothers pen."
At this point in Drake's career, who was arguably the No. 1 MC, he wasn't going to have anyone challenge him and get away with it. He dropped two diss tracks — "Charged Up" and "Back to Back" — which the latter became Grammy nominated for Best Rap Performance. Meanwhile, Meek would have Funkmaster Flex expose Drizzy by dropping If You're Reading This, It's Too Late reference tracks before premiering "Wanna Know," a diss that lacked the bark of Drake's tracks.
It started to look really bad for Meek when Drake opened his OVO Fest performance with an overwhelming amount of memes that poked fun at him. After that, Meek absolutely went ghost on Twitter, and halted any release of new music until in early 2016 when he dropped his 4/4 EPs.
Clearly, Meek took the L and has been facing an uphill battle ever since.

Lil Yachty vs. Soulja Boy
Year: 2016
Put this one down as the 2016 beef that absolutely made no sense. Apparently, Soulja Boy got mad when Lil Yachty texted him to take down a photo of model India Love on Instagram. Being defensive, Soulja started posting photos of him and India together to prove they were once an item as well as friends. He kept going with more text message screenshots — even one from India that claims she has never met Yachty. This was backed by more insults on Twitter and Instagram (plus a ton of poop emojis) to prove his argument, followed by threatening to release a full diss track aimed at the 19-year-old rapper.
Yachty barely registered Soulja's wild behavior on his radar. He dissed Soulja during his performance at the Mala Luna Festival in San Antonio, Texas, telling the crowd "don't nobody listen to 'Crank Dat Soulja Boy' no more." Then to clear his name, Yachty used Snapchat to show a recorded phone call between him and Soulja, which showed the SODMG CEO essentially squashing the beef and suggesting they should make a record soon.
Even as others took sides (Southside of 808 Mafia, Keke Palmer), Soulja looked real suspect backpedaling his comments when Yachty completely ignored him after that. In another video post on Instagram, Soulja made an announcement that everyone messing with him needs to stop. "The Lil Yachty beef over. And y'all leave me the fuck alone. I'm finna count these millions," he said.
But wait, didn't he start it in the first place? ¯\_(ツ)_/¯.

Beanie Sigel vs. Meek Mill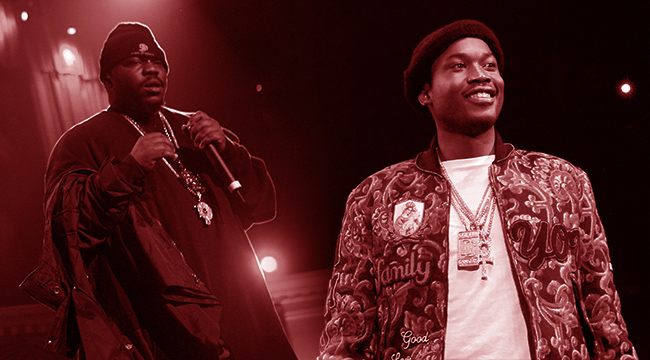 Year: 2016
While The Game and Meek Mill were beefing over snitching allegations in a jewelry robbery involving Sean Kingston at a L.A. nightclub, Beanie Sigel saw what was unfolding and wasn't too happy about it. Motivated by representing Philadelphia and showing a sign of unity, he made a cameo on Meek's "OOOUUU" freestyle. "One phone call, I'm in L.A. in three hours / The bully, please don't bring me out of retirement," he rapped.
Once again, ghostwriting became an issue when Beans admitted he wrote some of Meek's lines on the song. Because he broke some sort of code ethics of the streets, Beans got sucker punched by Teefy Bey, an affiliate of Meek's, backstage at the Bad Boy Reunion tour stop in Philly.
After an epic interview on Taxstone's Tax Season podcast that broke down the mentality of Meek and his moves in every possible angle, Beans became relentless in stepping up to the young rapper. Even as Meek was provoking Beans through a Hot 97 freestyle (shooting at 50 Cent and Drake too) and on Instagram, Beans continuously dropped diss tracks to show he lived up to his Broad Street Bully name. "I'm Coming," "Goodnight," and "Gang Gang" recaptured the energy of when Beans would go bar-for-bar with Jadakiss. Old school Beans fans loved how he wasn't bullshitting nobody.
But aside from nostalgia, Beans looked pretty silly beefing with a rapper who was more popular and at the peak of his career. He had nothing to gain other than the fact that hip-hop was talking about Beans again. After all, he hasn't dropped a proper album in like four years or has a chart-topping single since those Roc-A-Fella days.
Meek's been a punching bag for a minute, but for once, he came out the victor when his latest release DC4 was met with an overwhelmingly positive response. The new King of Philly has arrived.