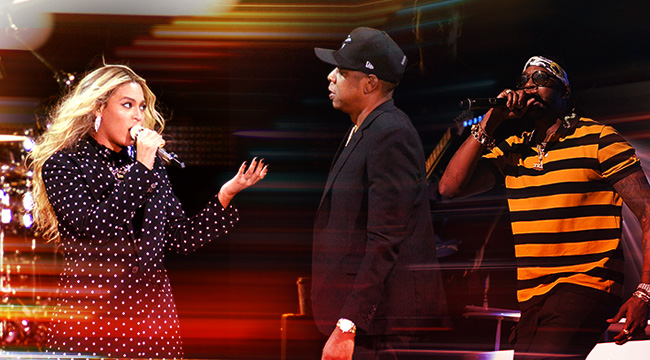 Fashion and hip-hop are not synonymous, but the former has been integral to the rise of the latter. As hip-hop genre has grown and morphed throughout the decades, its connection with fashion has become more clear than ever as plenty of rappers have their own lines now. Beginning with Polo Ralph Lauren freshness and Kangol caps and transitioning to everything from Nautica, Tommy Hilfiger boxer shorts and ostentatious bling, fashion's influence in hip-hop made rising stars instantly iconic.
Since the mid '90s, fashion has embraced high-end labels, not only as a source of aspirational aesthetics, but also as a means to acquiring some of the rarest looks available. From the Notorious B.I.G. in a silk Versace shirt to Lil Kim in Chanel earrings, designer fashion and couture became a new arbiter of success for many in the hip-hop world. Here, we look at some of the most memorable instances when rappers went couture, incorporating high-end designs flawlessly into their own take on culture.
2 Chainz — "Birthday Song" (Feat. Kanye West)
Kanye West has given us many things, from outrageous, occasionally offensive statements to a collection of perfect album. But most recently, fashion has been at the forefront of his mind. In 2 Chainz's video for "Birthday Song," west reportedly sported a pair of $1,500 leather athleisure pants. The look — like many of West's fashion choices before it — became a blueprint for the next generation of street style looks. Think comfortable cuts with unusual fabrics — it's luxe, but a luxe most people can fantasize about (and even imitate).
Ja Rule — "Always on Time"
Burberry's connection to the hip-hop world was about as short-lived, yet memorable, as JaRule's career. It makes sense then that the rapper would sport a nearly head-to-toe Burberry look in this video. From his Burberry bucket hat (which felt like a throwback reference to the ubiquitous Kangol caps of the early rise of hip-hop) to his matching sweater in Burberry plaid, Ja Rule confirmed even the most square of brands can seem cool with the right seal of approval. Crisp, pale yellow never looked so good.

Jay Z and Beyonce — "03 Bonnie and Clyde"
Throughout the last decade, Jay Z and Beyonce established themselves as the true "first couple" of pop and hip-hop. But before that, they were just a breakout star from an R&B girl group and one of the most popular rappers in the world. Although their collaboration was in line with the early aughts influx of R&B/hip-hop crossovers, the video showcased the burgeoning romance between the two. Few shots from the fashion-forward video were as memorable as a quick glimpse at the two's shoes: Jay in Timberland boots and Bey in Manolo Blahniks.
Biggie — "Hypnotize"
After the rise of preppy in hip-hop, the Notorious B.I.G. took the fashion and hip-hop connection one step further. Enter couture. Versace (first through designer Gianni Versace and later through his sister Donatella) became the go-to brand for hip hop artists interested in high-end labels. Biggie made the look pop first in this video, where he continuously rocked a gaudy, silky Versace shirt . The look became iconic as he sped across the ocean in a speed boat with a bottle of champagne and a collection of anonymous women at his side. The look was surprisingly sexy and risky. Hip hop still validated a hyper-masculine ideal at the time. Biggie established his stature above his peers by rocking chic looks and slick bars at the same time.
Fat Joe — "Watch The Sound" (Feat. Grand Puba & Diamond D)
Grand Puba already established Tommy Hilfiger's freshness on the Mary J. Blige track "What's the 411?" but this music video made the relationship between prep brands and hip-hop front and center. The artists, along with a gaggle of other people in the video, sported Tommy-branded looks, from red, white, and blue oversized pullovers to denim button-ups.
Wu-Tang Clan — "Can It Be All So Simple"
Raekwon. Snow Beach. The most iconic look from Wu-Tang Clan's "Can It Be All So Simple," is its most straightforward. Despite appearing years after the initial crossover rise between hip-hop and Polo Ralph Lauren in the 80s, Raekwon's oversized pullover with the words "SNOW BEACH" slapped across the front solidified the ongoing relationship between the musical genre and the brand. If the original rise of Polo Ralph Lauren was about acquiring freshness, Raekwon turned this idea on its head. He inserted the brand's looks into the ongoing trends popularized by rappers rather than have the brand dictate what was cool. Polo Ralph Lauren was no longer an "aspirational" brand to acquire. It was acquired.

Tupac — "Keep Ya Head Up"
Tupac was expressive and charismatic. Therefore, it comes as no surprise that he occasionally modeled, most famously for designer Karl Kani. In an act of good faith and racial solidarity, Tupac refused to charge Kani for an advertisement he modeled in because he was black. In the video for "Keep Ya Head Up," he took his Karl Kani interest to the next level, sporting many of the designer's latest looks. The effect was subtle, yet powerful. Rather than falling in line with his peers and sporting the repurposed preppy look of his peers, Tupac celebrated a designer channeling for us, by us, before it was a brand.
Lil Kim — How Many Licks (Feat. Sisqo)
"How Many Licks" became an instant classic upon release. The onslaught of highly stylized imagery pushed the raunchy song from Kim's 2000 album The Notorious K.I.M. to the forefront. Throughout the short clip, Kim parades down a runway like a pint-sized model with a vibrant pink leggings and a multicolored denim corset. The look doesn't scream high fashion, but Kim is establishing herself as a formidable and influential force with high style. Later in the video, she'll sport Chanel earrings, a true symbol of her financial success, and a pink latex jumpsuit. Kim established that she could rock couture while being raunchy — the sort of bold look that made her such a hot commodity both in the hip-hop world which favors the individual and in the fashion world, that often borrows its most successful looks from the street.
Kanye West — "Runaway"
West's epic production for "Runaway," a lead single from his masterpiece album, My Beautiful Dark Twisted Fantasy, was more like a short film than a music video — especially the extended version. West played with conventions of the runway, with ballerinas dancing across bleak, concrete floors like models parading down a runway. Conceptually, it was a highly-stylized work of art, a piece of video art that connected the visual (including a signature crisp white suit) with the sonic. Model Selita Ebanks, who played the phoenix in the film, solidified the fashion-music crossover. If you have the time, and your mind isn't still reeling from his comments on Trump and racism last night, watch the entire Runaway film below and relive 2010.