At the very end of Dyckman Street, on the corner of the Inwood neighborhood in uptown Manhattan is a waterside venue called La Marina. If you're traveling up from the outskirts of lower Manhattan, like I was, this little dead-end corner kind of feels like the end of the world. I imagine it feels the same if you're coming up from Brooklyn, or even down from Queens or the Bronx, which makes La Marina the ideal place to throw a raucous, loud, and sweaty all-night dance party.
So when it came time to host a night celebrating some of Latin music's biggest stars and cult favorites, the open-air venue proudly bearing a Spanish name was an ideal fit — and not just because the dancefloor was so steamy that the outdoor spaces offered a welcome respite from the heat. Last Friday night was a celebration of all things Reggaeton, aka a genre born out of hip-hop, dancehall, and Spanish reggae that originated in a couple mixtapes out of San Juan in the early '90s and quickly became a rising trend in the new global, post-internet pop world.
While the white, mainstream music industry is just discovering the glory of Latin pop music — word to Luis Fonsi and Daddy Yankee for Trojan Horse that was Justin Bieber's verse on the "Despacito" remix — the impossibly rich history of Reggaeton (and other subgenres like it) has been bubbling up for decades now. And, while the mainstream charts and pop radio may not be fully caught up, during this year's Red Bull Music Festival, the spotlight was on the real stars of the quickly-growing genre in an important way.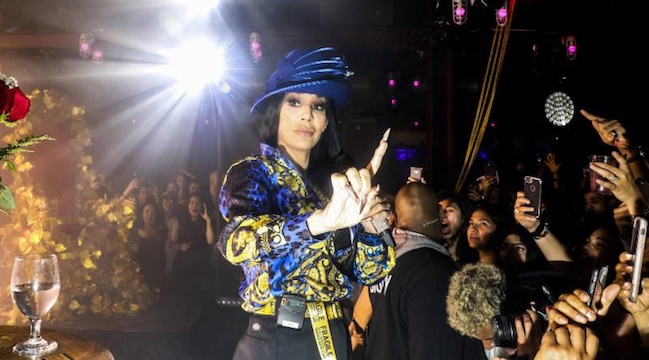 Their celebratory dance night, dubbed Hasta Abajo (which loosely translates to "all the way down," an accurate summary of the bill) was the first event I attended during a weekend trip to New York to get a taste of Red Bull 2018's installment of their annual music festival in the city, and it was further proof that when it comes to highlighting artists and movements other more commercially-focused programmers may leave behind, community tops consumerism every time.
Red Bull may be a corporate entity dipping their toe into the tastemaking and world of culture, but they seem devoted to supporting artists and communities who represent the best and the brightest music has to offer, and who are more than deserving of the patronage.
https://www.instagram.com/p/Bi-7dcyltoi/?taken-by=harmonicait
A rotating set of crews meant the bill was completely stacked, whether it be enormous collective The Noise live — including DJ Negro, Ivy Queen, DJ Nelson, Alberto Stylee, Micol Super Star, and Ranking Stone — or Rosa Pistola, DJ Lobo and Riobamba, who bookended the evening with beginning and ending sets, giving an air of synergy to the entire event. When it comes to Reggaeton, it seems perfectly clear that this is one of those cases where the consumer demand has always been there, and it's time for the rest of the world to catch up. On a rainy, foggy night way uptown in New York City, the place was filled to the gills.
Each of the performers cycled through the small, brightly lit square stage in the center of a packed, sweaty pit of the most passionate contenders, while concentric circles of those less willing to get caught up in the sweaty fray extended out behind the stage in rings, including stragglers set up on the space's outdoor decks, basking in the cool, foggy air while still well within sights of the fireball of energy erupting onstage. Massive trap beats mixed with unrelenting, upbeat melodies were the hallmark of most performers, while Spanish lyrics dipped in and out of the tracks — long instrumental breaks were just as common as the hook, chorus, and verse structure, depending on who was onstage.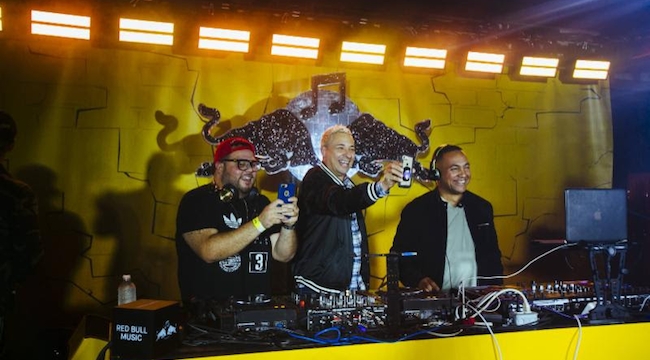 While the artists and musicians were unflappable, passionate, and talented, in many ways, it was the crowd who took my breath away. Uninhibited by the stiff forces of aloof coolness that pervades plenty of the New York indie rock and self-serious electronic shows I've been to over the years, the attendees of Red Bull's Reggaeton night danced with the fervency of worshippers at an altar, occasionally catching a breath to scream out the name of a beloved performer — Ivy Queen was perhaps the loudest to receive praise, if not DJ Lobo — but all were treated to the same undivided attention from an ecstatic crowd.
Since it was, admittedly, my first Reggaeton show my perspective is limited, but it seems that venues would do well to book begin booking acts that draw such passionate and moving response with more frequency. While the corner of uptown Manhattan is a great place to visit for a night, I hope venues with similar size and scope — like Output, Music Hall of Williamsburg, Bowery Ballroom and more — continue to follow in the footsteps of Red Bull and spotlight this genre with an incredibly devoted fanbase, and a whole host of stars who would easily shine on any stage in New York. Although, it might be helpful to set up a non-traditional cooling off area for those who have just left it all on the dancefloor — there is no party hotter than a Reggaeton party.
Uproxx was hosted for this trip with accommodations from Red Bull. Check out the Uproxx Press Trip policy here.