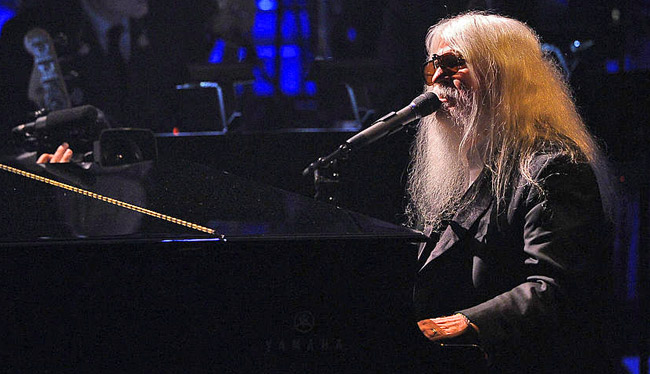 Legendary songwriter and musician Leon Russell has passed away at the age of 74. According to Russell's official website, the musician passed in his sleep and had been dealing with multiple health issues following a heart attack in July and surgery to stop the leakage of brain fluid back in 2010 according to Reuters.
Russell's career was not defined by his brief time in the spotlight, but more what he did behind the scenes. He was a member of the legendary Wrecking Crew and penned a bevy of hit songs that have been covered by artists across five decades:
Among the hit songs he wrote were "Delta Lady," recorded by Cocker,;"A Song for You," recorded by the Temptations, the Carpenters, Amy Winehouse and Whitney Houston; and The Stone's "Shine a Light" ("Get a Line on You.")

Other notable songs included "This Masquerade," a hit for George Benson "and "Heartbreak Hotel" with Willie Nelson. Russell performed at the Concert for Bangladesh with George Harrison and Friends and toured with acts including Delaney & Bonnie and Friends, Edgar Winter, The New Grass Revival, Willie Nelson and Elton John.
One of his most lasting musical relationships turned out to be his connection to Elton John. According to Reuters, John opened for Russell during the early days of his career and became a supporter after Russell's health battles in 2010 which was recounted in a New York Times featured at the time:
"I was laying in bed watching my TV, and I suspect he was laying on an elephant somewhere," Mr. Russell said. "I hadn't talked to Elton for 35 years, so it was quite a surprise."

Mr. John proposed the idea of recording with Mr. Russell, who was one of his early influences but has largely been forgotten by pop history. That phone call resulted in a new album, "The Union" (Decca), which reaches stores on Tuesday, and a 10-date tour, beginning that evening at the Beacon Theater. (The concert will be broadcast live on the Fuse network; Mr. Russell and Mr. John will also perform at the Beacon on Wednesday as part of an all-star benefit show organized by their producer, T Bone Burnett.)

For Mr. John the primary motivation for "The Union" — which returns him to the acoustic-based, country-flavored sound of early recordings like "Tumbleweed Connection" — was to bring a renewed recognition to one of his idols. "If Leon can get the accolades he deserves and be financially O.K. for the rest of his life, I will have done something decent with my music," he said in a call from his home in France.
It is hard to truly measure how important Russell and other session musicians were to popular artists over the years. The spotlight on their contributions is just starting to brighten thanks to documentaries and reflection by the artists that got their start the same way and moved onto stardom. You can hear some of Russell's work below in the Badfinger classic "Day After Day," but you can also do yourself a favor by looking up a little bit more throughout the day.
(Via New York Times / Reuters / Variety)