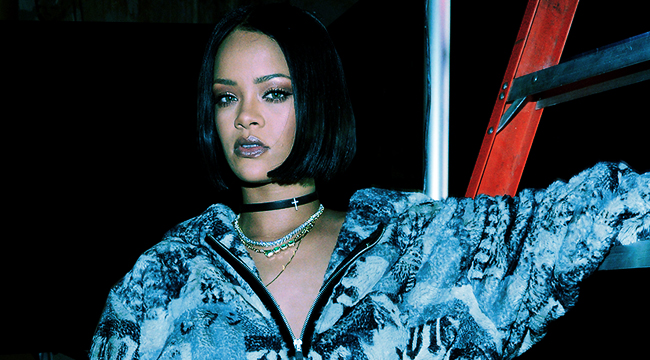 The 60th Annual Grammy Awards are upon us, or as I like to call them, the first anniversary of Rihanna not winning a Grammy for Anti. From Adele to Beyonce, Drake to Kanye, and Bieber to Chance, the Recording Academy was not shy in awarding mainstream pop projects last year, but when they left out Anti, they made a glaring mistake.
Aside from displaying a newfound range for her career, Rihanna made an essential statement about pop music on Anti. In the era of the playlist, our hit-making standard-bearer, who's owned the singles chart every year for nearly a decade, put out an album that mattered as a complete work. Anti existed in its own space and time, parallel to reality but sinking into its own raw, gorgeous atmosphere. It was something the listener could live in, a place that could provide refuge. Anti made her greatness so legible that accolades should've been obvious, or at the very least, inevitable. Instead, she didn't receive a single trophy.
Anti had leverage, best exemplifying last year's unusual alignment between commercial performance and critical reception. The album went certified platinum within two days of its release and hit No. 1 in its first week on the US Billboard 200 chart. Its lead single, "Work," reached the top of the Hot 100 in four weeks. That song alone garnered two Grammy nominations, but on the night of the ceremony, when pretty much everything everyone agreed on was validated, it was left empty-handed.
Perhaps the writing was on the wall when it was snubbed for Album Of The Year, historically a leading indicator of down-ballot success. And yet, Rihanna left with nothing to show for an album that pushed the pop star beyond our understanding of her already iconic stature was a shock on its own. Just six months earlier, at the 2016 MTV Video Music Awards, Rihanna had received the Michael Jackson Video Vanguard Award. And though the point was to recognize her accomplishments in music and video across her career, it felt like a prelude to what would come when Anti received its eventual accolades. But, this didn't turn out to be the case. That said, Anti's lasting impact may yet be felt.
Almost every track on the album was a precursor to the direction music would go in 2017 — and if we look at the 2018 Grammy nominations, all those bets have paid off handsomely for other artists. It starts with "Consideration," an off-kilter ditty with slinking drums and sauntering bass. Through the chorus, "I've got to do my own thing darling," Rihanna serves notice that what follows will be something different than what we've come to expect from her. In a smooth transition from the tragic side of romance to the romantic side of tragedy, SZA floats in: "When I look outside my window / I can't get no peace of mind." While her debut studio album CTRL faced various setbacks, SZA bided her time, writing for the likes of Beyonce and Nicki Minaj. But with a dub here, she proved she was ready to make the leap. And this year, leap she did, earning five nominations for CTRL, including Best New Artist.
Then there's the presence of No I.D. In addition to helping Rihanna achieve her desired sound on Anti overall, he produced "Higher," one of the few ballads on the album — and a rare instance of Rihanna belting — his twinkling keys and searing strings underneath were so inspired that they brought Lorde to tears and inspired "Liability" off her Album Of The Year nominee, Melodrama. He brought the same lavish texture to Jay-Z's 4:44 and scored a career-high five nominations in the process.
Next up, "Shape Of You," the multi-platinum, 44 country chart-topping lead single from Ed Sheeran you can't escape sounds like a tacky retread of "Work." The song is close to a lock for Best Pop Solo Performance at the 2018 Grammys. But Sheeran himself revealed in an interview on the BBC Radio 1 that it was written with Rihanna in mind.
Kendrick Lamar, on the other hand, knew better and sprung for the real thing, trading bars with Rihanna on "Loyalty" and snagging a Best Rap/Sung Performance nod. It's worth noting that a win here would be even more of a slight. Not only is she reduced to a "feature" on a man's song while carrying a greater load, the collaboration is relegated to the rap category rather than a pop one where it properly belongs. This is the way the Grammys want to contain and categorize black women. A cursory glance at the nominees for Best Pop/Duo Group Performance demonstrates yet another example of the Recording Academy's terrible habit of racially coding music.
Critically-acclaimed, career-defining records get overlooked all the time. All I ask is that if we can muster enough indignation over Beyoncé losing Album of the Year for Lemonade or Kanye West not even receiving a nomination for My Beautiful Dark Twisted Fantasy, that we at least summon the same for Rihanna and Anti. Because like them, her work is not just iconic but prophetic. Not only did she see the future, she shaped it by clarifying the present. Vision in execution — and no one delivered like her.
Inevitably, the question arises as to why anyone should care about a Grammy in the first place. But we should take a step further and consider why the Grammys even give awards. The stated purpose is to recognize achievement in the music industry. And while members are encouraged, but not required to, vote only in their field of expertise, they are compelled to vote on quality alone. Even if we give the Academy the benefit of the doubt and accept that they aren't influenced by sales, chart performance, personal allegiances, regional preferences, or company loyalty, with Rihanna they've defied their own internal logic. Because January 28th, regardless of who wins, will be a testament to Anti's staying power and just how fortunate we are to have her.