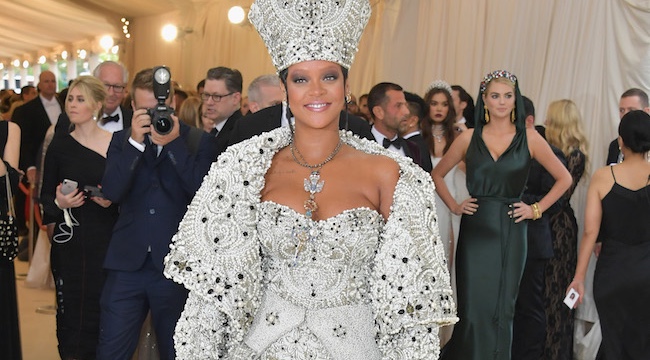 The Met Gala red carpet, somewhat surprisingly, has played host to some of hip-hop's favorite — and most shocking — moments over the years. There was the stunning footage of Beyonce's sister Solange attacking Jay-Z in an elevator which led to masterpiece albums from all three artists, Diddy's hilarious red carpet timeout that sparked a thousand memes, and Migos' perfect Versace looks from last year's show. Hip-hop has taken over the high-fashion event over the years, and this one is no exception.
The 2018 Gala's most iconic moment comes courtesy of none other than 2 Chainz, who used the fantastic setting to propose to longtime girlfriend Nakesha Ward. She said, "Yes," by the way.
As the pair strolled the red carpet on their way into the museum, Chainz dropped to one knee and presented Ward with a diamond ring, placing it on her finger for her to show off to the assembled onlookers and celebrity photographers. The couple has been together for a long time, sharing three children — two daughters and a son.
Of course, the rest of the hip-hop performers at the Gala showed up to show out as well, with Cardi B, Childish Gambino, Jaden Smith, Janelle Monae, Nicki Minaj, Solange, SZA, and Gala co-chair Rihanna all sporting smashing looks based on the year's theme of "heavenly bodies." The Metropolitan Museum of Art's Costume Institute exhibit for 2018 is "Heavenly Bodies: Fashion and the Catholic Imagination," which meant plenty of the hip-hop personalities on hand incorporated elements of the religions iconography and ubiquitous symbolism, including Rihanna's Pope-inspired dress and headpiece.
Check out all of the looks below: