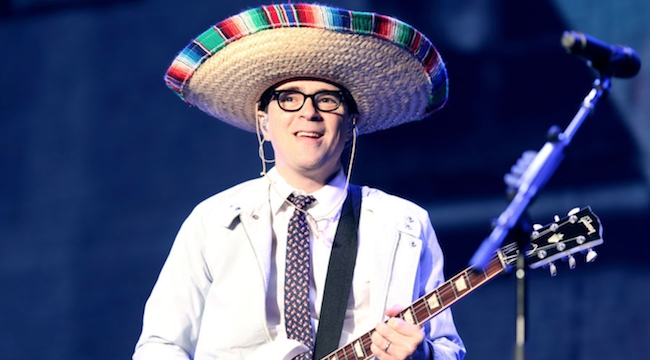 Weezer frontman Rivers Cuomo is no stranger to performing covers, though he does typically keep them to the confines of his Instagram account. That said, Cuomo took the stage at the Hi Hat in Los Angeles over the weekend for an acoustic set, which featured a handful of select covers of classic songs from the last decade of the twentieth century.
After opening with a faithful rendition of R.E.M.'s "Losing My Religion," Cuomo went straight into a subdued version of the Smashing Pumpkins' "Today." He then performed nearly twenty Weezer songs — from "Island In The Sun" to Pacific Daydream's "Feels Like Summer," before pulling out a nice version of Oasis' classic "Champagne Supernova."
"You guys have no idea how fun this is," Cuomo beamed into the crowd before singing the opening lines with his signature vocal tinge. Finally, he closed out the nearly two-hour set with "Where Is My Mind," to get fans excited for Weezer's upcoming co-headlining summer tour dates with the Pixies.
Luckily, YouTube user Rey Philip de Joya kept his phone up to capture the set in its entirety, which can be viewed down below, along with the full setlist.

"Losing My Religion" (R.E.M. cover)
"Today" (Smashing Pumpkins cover)
"Island In The Sun"
"Across The Sea"
"(If You're Wondering If I Want You To) I Want You To"
"El Scorcho"
"California Kids"
"Feels Like Summer"
"Beverly Hills"
"The Good Life"
"In the Garage"
"No Other One"
"Magic"
"Pork and Beans"
"Sober Up"
"Undone – The Sweater Song"
"L.A. Girlz"
"No One Else"
"Falling For You"
"Pink Triangle"
"Why Bother?"
"Perfect Situation"
"Champagne Supernova" (Oasis cover)
"Say It Ain't So"
"Buddy Holly"
"Where Is My Mind?" (Pixies cover)