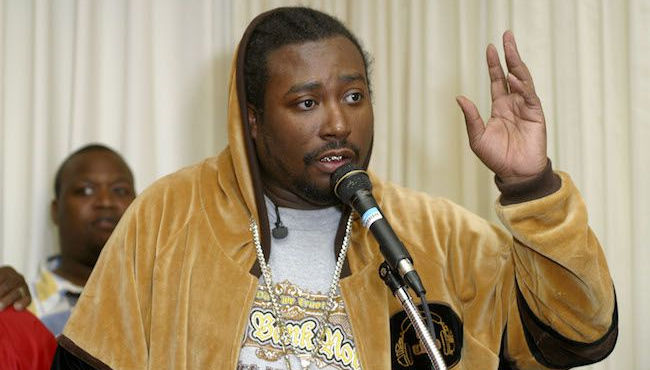 The world is finally getting an O.D.B. movie. The Hollywood Reporter reports that one of rap's most dynamic — and most tragic — figures, the late Russell Tyrone Jones, aka Ol' Dirty Bastard, will be the latest of the genre's kings to wind up on the silver screen.
Produced by his fellow Wu-Tang Clan member RZA, the film, now in development, will follow the success of the 2015 N.W.A biopic Straight Outta Compton and, to a lesser extent, last year's Tupac-centric All Eyez On Me, which was a critical punching bag but a modest box office success.
ODB. rose to fame as a founding member of the Wu-Tang Clan collective, largely comprised of Staten Island rappers and producers, though Jones hailed from Brooklyn. Where other members were known for their precision and clarity, O.D.B. was the wild card, his rapping filled with unpredictable phrasing and inflection. On his Wu-Tang tracks, and on his solo records — including 1995's Return To The 36 Chambers: The Dirty Version — fans never knew what would come next.
ODB's flamboyance extended to his public life. Among his exploits are picking up a welfare check in a limousine and rushing the stage at the 1998 Grammys to protest Wu-Tang losing to Puff Daddy, where he uttered the words, "Wu-Tang is for the children," as well as "Puffy is good, but Wu-Tang is the best."
He also suffered substance abuse and legal troubles, and in 2000 escaped from a court-mandated drug treatment facility and spent a month as a fugitive. The same year, while still on the run, he was arrested outside a Philadelphia McDonald's. After attracted a large crowd of fans, the staff thought something was afoot and called the cops. ODB was sentenced to two to four years of incarceration. He never quite recovered from his prison stint, and he died in 2004 of a drug overdose after collapsing in RZA's New York City recording studio.
An ODB movie has been rumored since 2016. Currently, the production is seeking a director, a title, a script and, most importantly, an actor who could even marginally live up to the real deal.