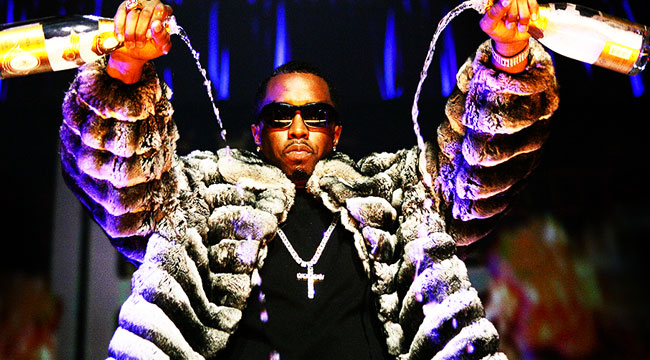 Sean Combs has changed his name again. The multihyphenate mogul who recently topped Forbes' Hip-Hop Cash Kings list for 2017 took to Twitter to announce that his newest, self-chosen sobriquet will be "Brother Love," or simply, "Love." He also asserted that he would no longer respond to any version of previous nom de Guerres "Puff Daddy," "Puffy," "P. Diddy," or "Diddy." We'll see how long that pans out, or even if he can get "Brother Love" to stick, but given how often he changes his stage name, it might not be advisable to get too comfortable with the Brother Love nomenclature.
What's the deal with Combs's constant cognomen shuffling? Well, if prior history is anything to go by, his name changes seem to correlate with album announcements. Essentially, he'll announce a name change, with a new music declaration following shortly thereafter. It also generally seems to imply a shift in musical direction as well. For instance, when he dropped the "P." from "P. Diddy," he released Press Play — an album that made for an intriguing departure from his previously established sound — just a year later. Below is a brief history of the many name changes of the man known as Sean Combs.
1997–2000: "Puff Daddy"
An entire generation was introduced to the man behind Bad Boy Entertainment as the producer who was "all in the videos… dancing," on productions from The Notorious BIG and Craig Mack. Alternately known as "Puff" or "Puffy," Combs took his first steps as an artist with No Way Out, released in 1997 just a few short months after Combs' artist BIG was murdered in a still-unsolved Los Angeles shooting. The album went platinum multiple times and earned Combs the Grammy Award for Best Rap Album at the 40th Grammy Awards in 1998. He followed that album with Forever, and spent the latter portion of the decade dating actress and singer Jennifer Lopez until he and Bad Boy artist Shyne were arrested after a shooting in Club New York in Manhattan. Combs skated on the charges, which included four weapons-related charges and bribing his driver to take ownership of the weapon used.
2001–04: "P. Diddy"
Perhaps in an effort to slough off the negative associations stemming from the gun charges, Combs announced his first big name change, from "Puff Daddy" to "P. Diddy" in 2001. The choice was met with a modicum of derision from the hip-hop community, but nonetheless, eventually, most publications and fans seemingly got comfy with the idea of his new name by July, when he released his next album, The Saga Continues…, in a joint venture with Arista Records. Featuring "Bad Boy For Life" and parts one and two of "I Need A Girl," the LP represented a career renaissance for the rap tycoon, who used the new found momentum to launch several endeavors including the Making The Band television franchise. Making The Band would become the inspiration for the iconic Chappelle's Show sketch that saw Chappelle, as P. Diddy, sending the cast members to far-flung New York locales for authentic Cambodian breastmilk, among other ridiculous requests.
2005–17: "Diddy"
As he entered the next phase of his professional life, Combs apparently decided that he'd gone as far as he could as "P. Diddy," and announced on August 16, 2005, on Today that he would be simplifying his professional name to just "Diddy." Contributing to the name change, he said, was that fans didn't know what to address him as between his previous names. That name change brought about its own set of problems; a London-based musical artist and DJ named Richard Dearlove had been using the title "Diddy" since 1992, preventing Combs from using the name in the UK and forcing him to pay an out-of-court settlement of £10,000 in damages and more than £100,000 in costs.
As Diddy, Combs continued the Making The Band series for a fourth incarnation. He also appeared in movies like Get Him To The Greek and further displayed his acting chops in appearances on Hawaii Five-O and It's Always Sunny In Philadelphia. Musically, he released the aforementioned Press Play album, as well as spearheading a group effort, Last Train To Paris, as part of Dirty Money with Danity Kane member Dawn Richard and singer/songwriter Kalenna Harper.
Who knows what to expect as Combs enters the Brother Love phase of his career, or even if he was being completely serious with his latest name change? One thing is for sure: No matter what he insists we call him, the man known as Sean "Puff Daddy/Puffy/Puff/P. Diddy/Diddy/Brother Love/Love" Combs will likely continue to be the ostentatious, rambunctious, and hilarious entrepreneur, music producer, and part-time rapper we've all come to know and love.