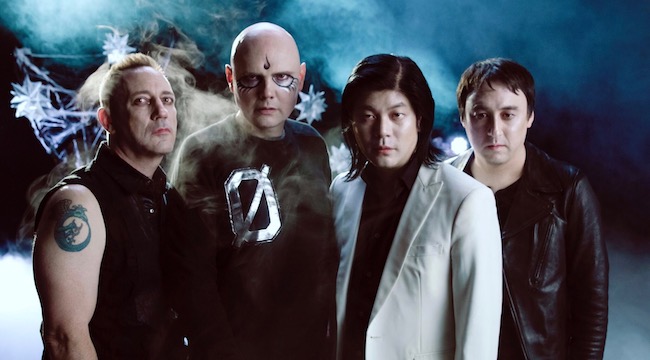 The Smashing Pumpkins reunion continues on without interruption. Following a massive, arena-sized tour of North America this summer, the band are getting back to the business of promoting their upcoming album Shiny And Oh So Bright Vol. 1 / LP: No Past. No Future. No Sun. that's set to drop next month. To that end, today they've shared a brand new music video for one of the standout songs from that project, "Silvery Sometimes (Ghosts)."
The clip opens with a shot of the band standing behind Sugar Ray singer Mark McGrath on the front porch of what's purported to be a haunted house. McGrath, who also showed up in vignettes during the band's tour as a carnival barker, plays an overzealous radio DJ here, laying out the parameters of the challenge presented to the band to sleep overnight in the house in order to receive a fat check for charity. What follows is a creepy and kind of hilarious collection of ghosts, pianos playing themselves, ventriloquist dummies, and Billy Corgan — who directed the whole thing — in what appears to be a black onesie with bunny ears on the hood.
The "Silvery Sometimes (Ghosts)" video is an absurdist adventure just in time for Halloween which you should definitely give a watch above. The band's new album Shiny and Oh So Bright Vol. 1 / LP: No Past. No Future. No Sun. drops on November 16 via Martha's Music. You can pre-order your copy here.