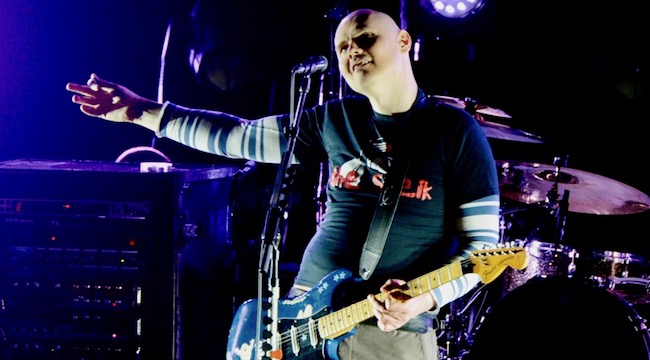 Though The Smashing Pumpkins made no secret about new music accompanying their massive arena run, dubbed the "Shiny And Oh So Bright Tour," up until now the band has only offered up "Solara" from sessions recorded with prodigal son James Iha and legendary producer Rick Rubin. That song has been a staple on the tour, but no other new music has been offered up during the nationwide jaunt.
With only a few currently announced tour dates remaining, the band seems ready to shift gears. Premiering earlier today with BBC Radio's Lauren Laverne, Smashing Pumpkins offered up another new song, "Silver Sometime (Ghosts)," with Laverne saying that a full-length release from Billy Corgan, Iha, Jimmy Chamberlin, and Jeff Schroeder is expected by mid-November rather than the originally planned pair of EPs. You can listen to the song on the BBC site, just fast-forward to about 1:52:00 to hear it.
The tune, a mid-tempo number that finds Corgan at his most melodic and accessible, finds the band recapturing some of their past glory. Where "Solara" seemed to hide behind bombast, "Silver Sometime (Ghosts)" is a far more generous song, with Corgan hitting on the tunefulness that made Smashing Pumpkins so beloved in the first place. If the new album includes more in this vein, it's something to truly get excited for.