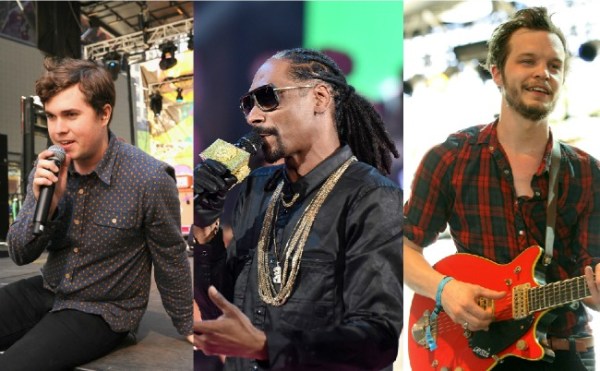 This week, Snoop Dogg partners up with Pharrell, Surfer Blood perseveres after news of one of its member's illness, and The Tallest Man on Earth drops his most personal release to date. Because it's hard to find all the new music dropping in a week, we did all the work for you. Here's what you need to listen to this week…
Snoop Dogg – Bush
For his 13th studio album, Snoop decided to team up with Pharrell exclusively as a producing partner, which has worked incredibly well for him in the past. Songs like "Peaches N Cream," "California Roll," and "So Many Pros" already show that choice has paid off handsomely. Bush also features guest appearances from Kendrick Lamar, Rick Ross, T.I., and Gwen Stefani.
Surfer Blood – 1000 Palms
To say the indie rockers of Surfer Blood have had a tumultuous few years would be an understatement. Their lead singer was arrested for domestic battery in 2012, and though the case was ultimately dropped, the band left Warner Bros. following their second album, Pythons. Earlier this year in April, guitarist Thomas Fekete had to take a leave from the band due to a rare form of cancer. Despite all this, with their third effort in 1000 Palms, the band tries to soldier on with some of the rollicking surf-y post-punk we came to know on their debut. Check out "I Can't Explain" below.
The Tallest Man on Earth – Dark Bird Is Home
The bittersweet folk delivery from Kristian Matsson, better known to most as The Tallest Man on Earth, returns this week with his fourth album. Releasing a trailer for the LP earlier this year, the video promised his most personal work yet. And that promise is delivered with tracks like "Sagres" and title track "Dark Bird Is Home."
Here's what else is out this week:
Barbarossa – Imager
Crocodiles – Boys
David Duchovny – Hell Or Highwater
Duff McKagan – How To Be A Man
Hinder – When The Smoke Clears
Icky Blossoms – Mask
Leonard Cohen – Can't Forget: A Souvenir Of The Grand Tour
Patrick Watson – Love Songs For Robots
Prefuse 73 – Rivington Nao Rio
Prurient – Frozen Niagara Falls