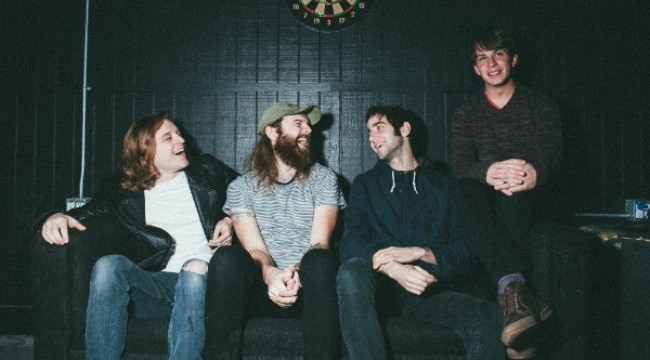 I can still hear you sing, but you'll never sing for me.
In an unexpected turn of events, Sorority Noise kicked off March with the announcement that they would be taking an extended break at the conclusion of their announced tour dates. "I consider each person in this band and crew to be a member of my family and I love them with every ounce of my being but I think it's in my heart and mind's best interest to take a break from the band for a while," frontman Cameron Boucher wrote in a statement posted to the band's social media. The news came just after the release of YNAAYT, an acoustic re-imagining of their breakthrough 2017 LP You're Not As _____ As You Think.
Walking into Ferndale, Michigan's the Loving Touch for one the final shows before their hiatus, emotions were high as the sold-out crowd gathered around the small stage waiting for Sorority Noise to take the stage. Fans earnestly discussed their SoNo-inspired tattoos, and what the band's music meant to them. Finally, the lights went down and the crowd roared as Boucher, guitarist Adam Ackerman, bassist Ryan McKenna, and drummer Charlie Singer took the stage.
Without so much as a greeting, the band launched right into "Blissth," the opening track from their sophomore album Joy, Departed. As with many Sorority Noise tracks, "Blissth" is a song that starts out subdued, before a quick build to a cathartic close, with Boucher stepping away from the mic to scream into the ether, "You'll always be like a nightmare to me, and I'll always be begging for sleep."
Across their three records, Sorority Noise made a name for themselves for their earnest, often gut-punching lyrics. Bringing these songs to the stage gives them a whole new life, employing time signature shifts in songs like "Nolsey" and "Using" to maximize emotional resonance. The band even paid homage to their influences, pulling out a faithful cover of Nirvana's "In Bloom" toward the middle of the set.
As bodies flew over the top of the crowd in a physical mosh pit, it became clear that Sorority Noise is a very important band. Their music means a lot to a lot of people, and with good reason. In his lyrics, Boucher doesn't stray from the things that are hard to say, or hard to hear. It takes a certain strength to put these truths out into the world, and allow people with similar experiences to relate. Throughout the set, in the crowd, there were tears and there were smiles, everyone crowded into the room to send off a band that did so much to help so many cope with their emotional baggage.
"Thank you all so much for being here," Boucher said from the stage. He then acknowledged that it was going to be some time before he took the stage in Michigan again, and left the audience with one final piece of advice: "Days are going to be hard sometimes and you just want them to end, but they're going to end."
After the rapturous applause faded, Boucher turned to Singer and started strumming single notes, before turning to the mic and singing softly, in an all-too-fitting tribute to Pink Floyd's The Wall. "Goodbye cruel world. I'm leaving you today. Goodbye, goodbye, goodbye. Goodbye, all you people, there's nothing you can say to make me change my mind. Goodbye." With that, the band dove into You're Not As _____ As You Think opener "No Halo," the crowd exploding into mosh pits and crowd surfers to mark the band's final song.
After the set, many fans stuck around as the band loaded out, making sure to tell Boucher one last time how his music helped them get through tough times in their lives. The conversations often ended with a handshake or a hug, both parties thanking the other profusely for everything. It was a bittersweet scene, beautiful in its camaraderie but foreboding in its sad reality.
For the last time in the foreseeable future, Sorority Noise is on the road right now. Check out all the dates here, and our extensive interview with Boucher here.