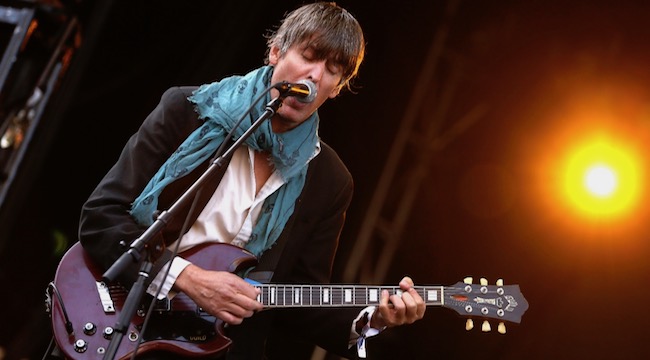 In both his iconic '90s rock band Pavement and beyond, Stephen Malkmus has made a career out of creating incredibly melodic, ear-wormy melodies with sludgy driving guitars. That trend continues with his latest single with his group The Jicks. Titled "Shiggy," Malkmus' newest creation from his upcoming album Sparkle Hard shows he's lost nothing of his ability to craft music that's feels beautiful and sounds ugly all at the same time.
Based on what he's already given us with the initial single "Middle America," and now "Shiggy,"Sparkle Hard looks to be one of the more impactful, vibrant, and varied albums of Malkmus' post-Pavement creative life thus far. He's slowly been putting it together since 2015 after upgrading his home-recording set-up and messing around with some electronic drums. The new album contains a whole bevy of unexpected left turns, including the use of auto-tune, fiddle, and a guest appearance from Sonic Youth's Kim Gordon.
Sparkle Hard is set to drop on May 18th via Matador. You can pre-order the record here, and check out the full tracklist below.


Sparkle Hard
1. Cast Off
2. Future Suite
3. Solid Silk
4. Bike Lane
5. Middle America
6. Rattler
7. Shiggy
8. Kite
9. Brethren
10. Refute (ft. Kim Gordon)
11. Difficulties / Let Them Eat Vowels