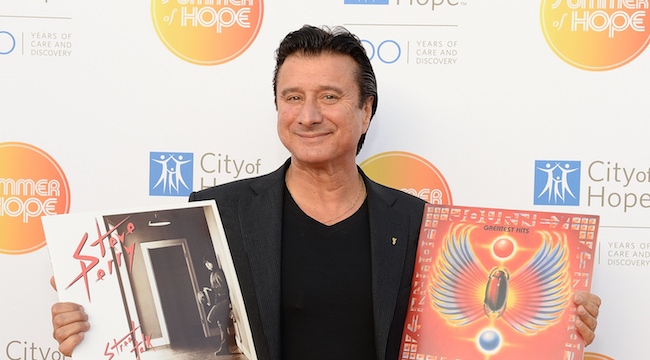 Steve Perry's was the lead singer of Journey throughout their most commercially lucrative and culturally viable run through the '70s and '80s. His voice is featured on all of Journey's iconic hits like "Don't Stop Believin'" and "Who's Crying Now," but the singer has very little to do with today's incarnation of the band. He left Journey in the 80s and briefly reunited with the group in the 90s, but Arnel Pineda has been the band's frontman since 2007. Perry doesn't seem to have any kind of insurmountable beef with with his old group, though and it seems like he'll be joining them onstage for their induction into the Rock and Roll Hall of Fame tonight.
TMZ caught up with guitarist Neal Schon this morning, and he confirmed that Perry will be there. He also said that the band will perform with Pineda, but he's not sure if Perry will take the mic for a song. Schon spoke to Yahoo Music a few days ago where he said that he's hopeful that Perry will make a return.
"As far as we know, he's just going to accept the award and then skedaddle. That's all I know, unless something changes. We probably won't find out until he gets there. But since he did go onstage last year in a few different markets with the Eels and sang some of our stuff, I'm like, 'Well, why wouldn't he do that with us?' Everybody's celebrating our legacy that he and I and Jonathan [Cain] and Ross [Valory] and Steve Smith and [former Journey member and co-founder Greg] Rolie and everybody contributed to. So I'm hoping he'll sing with us. The door has always been open for him to do that."
It seems like it's a game-time decision whether Perry will sing with his old band tonight. The ceremony begins at 7 p.m. ET, so we'll probably have to wait until then to find out.