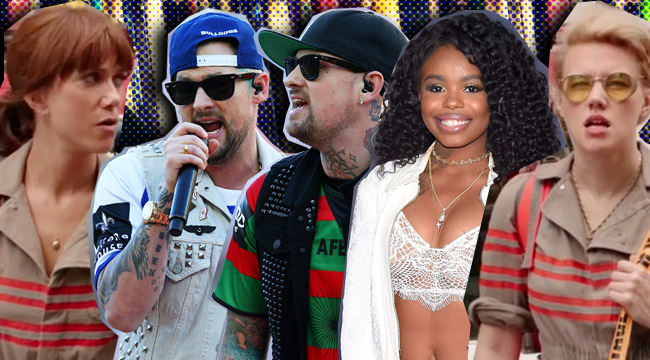 As you can imagine, the biggest pop-culture phenomenon this week — non-pocket monsters edition — is the reboot of Ghostbusters. Well, alongside the major motion picture, the soundtrack to the film is also dropping this week. In addition to that, pop punks never die, as Good Charlotte prove, and we've also got new stuff from Dreezy, Clams Casino, 21 Savage, and more. Here are the albums you need to hear this week.
Various Artists – Ghostbusters Original Motion Picture Soundtrack
Yes, we've heard all the hype and internet hoopla about the film dropping on Friday, but the music history of Ghostbusters is pretty proud too. The title track from the 1984 film was nominated for an Academy Award and "On Our Own" by Bobby Brown from Ghostbusters II is an undeniable new jack swing classic. So, as you can imagine, even the music is under incredible scrutiny. Luckily, there are some great original tracks here from the likes of bluesy rocker Elle King, Zayn, Wolf Alice, G-Eazy, and a wildly fun collab with Mark Ronson, Passion Pit, and A$AP Ferg which could have just easily been the album's lead single. And for those curmudgeon holdouts… the last track on the LP belongs to Ray Parker Jr. with his iconic original version of "Ghostbusters."
Good Charlotte – Youth Authority
What do they say? What's old is new again? It really feels that way these days with pop punk acts of yore springing back from the dead (aka the late '90s and early '00s). First, Blink-182 return to a ravenous fanbase who gave them the No. 1 album in the country, and now Good Charlotte are looking for their turn. The Brothers Madden are back with their first record in six years in Youth Authority, and tracks like "Keep Swingin'" and "Life Changes" suggest the band has turned away from the experimentation of their last few outings to return to their original pop punk style. Guests here include Kellin Quinn of the emo group Sleeping With Sirens and Simon Neil of alt rock band Biffy Clyro.
Listen to Good Charlotte Youth Authority on Apple Music
Dreezy – No Hard Feelings
One of 2016's best surprise hits came from Chicago's Dreezy and her single "Body" with Jeremih. Judging from only that, you would think she was just a gifted sing-rapper, but No Hard Feelings is a showcase for her incredible versatility. Tracks like "We Gon Ride" featuring Gucci Mane and "Spazz," produced by frequent Future collaborators 808 Mafia, sound like they were cooked straight out of Atlanta, but "Close To You" featuring T-Pain is a hip-hop love spell that could easily set the perfect mood. If there's anything to take away from Dreezy's studio debut, it's that this girl has more talent than she knows what to do with, and we're only seeing the beginning of what she can do.
Listen to Dreezy No Hard Feelings on Apple Music
Here are the rest of the week's new releases:
Clams Casino – 32 Levels
Needtobreathe – H A R D L O V E
21 Savage – Savage Mode
Z-Ro – Drankin' and Drivin'
Michael Kiwanuka – Love & Hate
No Joy – Drool Sucker
Steven Tyler – We're All Somebody From Somewhere
Kosha Dillz – What I Do All Day And Pickle