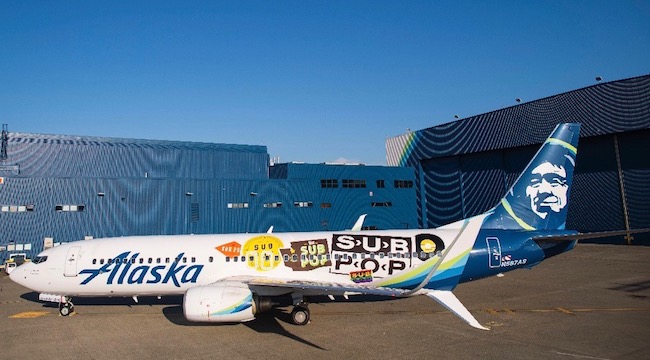 30 years is a long, damn time, especially in the music industry where tastes and trends change at a breakneck pace. With that said, you really have to tip your hat to Sub Pop, who in 2018 are celebrating their 30th year as record label. To help really take things to a new level, Sub Pop recently partnered with Alaska Airlines for their own custom-wrapped Boeing 737-800 that made a trip down the west coast yesterday.
"The jet's wrapping makes it look like a Sub Pop musician's instrument case, only in much better condition. It's definitely the sickest jet on the tarmac!" Sub Pop co-president and founder Jonathan Poneman said. "Music and travel both have the power to transform us. They bring people together, they open our minds and our hearts and they both have the ability to change our moods, our days and our lives. We're thrilled to celebrate 30 years of life-changing independent music with Alaska Airlines!" The label's CEO Megan Jasper added.
Of course, as anyone who's visited the Seattle-Tacoma International airport knows, Sub Pop has, for a few years now, affiliated itself with the air travel industry, opening up the world's first airport record store, where you can pick up copies of damn near every major release they've rolled out over the years, from Soundgarden's Ultramega OK and Nirvana's Bleach to Father John Misty's God's Favorite Customer and Rolling Blackouts Coastal Fever's Hope Downs.