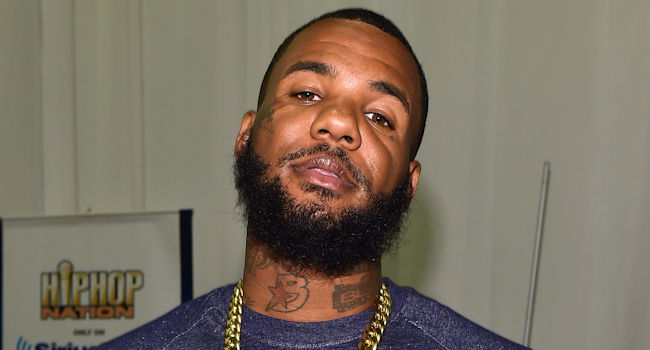 There is one particularly nasty rumor floating around The Game, and though he has yet to speak publicly on it, as of now things aren't looking good for the 37-year-old rapper. As far back as mid-September there have been rumors floating around on social media that the rapper may have gotten a 15-year-old girl in the UK pregnant, and now, after an internet gossip site reportedly reached out to the alleged 15-year-old, the story is back.
Famouslousent reached out to the teenager who supposedly has given birth to The Game's child and asked what's going on. The site posted the messages, but eventually deleted them because the girl was being harassed. Another site, Pop Glitz, posted the messages without the girls name, and they detail the situation. According to the messages, The Game was told the girl was 15, but he didn't believe her as they met in a club that required ID. Since then, Game has allegedly helped her move out, and he will be supporting her financially in the future, though she doesn't expect him to be very involved with the child.
The Game's reps did not respond to a request for a statement on the matter, but he did recently return to social media after a self-imposed hiatus, to post about Gucci Mane's elegant wedding. The last time Game posted he said he'd be taking time off social media to focus on fitness and mentioned "A small part of that has to do with toxic people, energy & atmosphere as well, just like some food, people too are bad for your health so you have to rid yourself of that element & start fresh."
According to the reports, Game also encouraged the 15-year-old to get off of social media as well, though he has continued to post on an Instagram account connected to his Twitter that mostly is centered around his NBA 2K18 exploits.
This is not the first time Game has gotten in trouble for his sexual abuse, last year he paid $7 million in damages for a 2015 assault case. This is also not the first time he's been accused of dealings with an underaged girl, and as recently as this summer he was accused of messaging underaged girls on Instagram.
The Game has yet to respond to the new allegations, but we will update the report if we receive comment.
Update: The Game has responded in a statement to Complex, saying "This story is a lie made up by a child whom I've never met nor talked to in my life. I wish big media outlets would stop giving inaccurate news & liars a platform to tarnish their brand & make them look like the Enquirer."