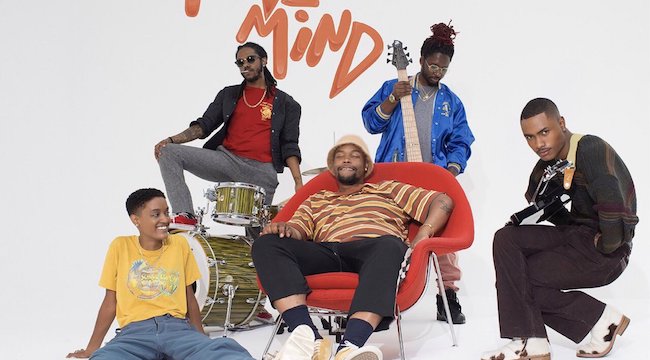 For astute music fans who've been paying attention, it would seem that R&B is in the midst of a renaissance, as highlighted by the soaring success of artists like SZA, Ella Mai, and Childish Gambino. It could be argued that the revolution was kicked off in earnest by the latter's Grammy-nominated, P-Funk-homage of an album, Awaken, My Love! in 2016. However, it actually started much before that, quietly, on the fringes of a rabble-rousing, shit-kicking rapper collective out of Los Angeles whose trollish antics and anarchistic bearing masked the true gems hiding within their number.
I'm referring, of course, to The Internet, the funk/soul band made up of erstwhile Odd Future members Syd Tha Kyd and Matt Martians and their hand-picked bandmates, whose Purple Naked Ladies debut album was one of the best thing to come out of the early years of the skate-punk-rap collective's rise to prominence. With each successive release, The Internet sharpened their craft; on Feel Good, they brought the funk, starting to find their groove and the most effective approach for their spacey psychedelia, while 2015's Ego Death found the group exploring intriguing new textures in sound, reincorporating the synths that had defined their debut. Now, on their fourth studio album, Hive Mind, they've upped the ante and found their most self-assured pocket yet, solidifying their position as the premier R&B band in music today.
The sounds have been somehow both scaled back and expanded, with more assertive grooves that practically beg you to slide onto the dance floor in your cleanest pair of bell bottoms and cut a two-step to make your old-school player uncles proud. At the same time, the group subtly experiments with new instrumentation that both highlights their growth as musicians and evokes a confident self-possession that makes their latest work as revelatory as Gambino's own funk experiment, only without the obvious emulation. Each track feels as familiar as the Saturday morning throwbacks but as bold and fresh as a single premiere on the radio.
The obvious example is album single, "Come Over," with its stuttering rhythm guitar and hip-rocking hand claps buttressing a soulful Syd vocal that promises flashbacks to teenage date nights, but it's "La Di Da" that evokes the old-school soul the group seeks to channel through wah-wah guitars and gentle brass that calls back to Soul Train lines and roller skate jams of yesteryear. When the tempo slows for the percussive, storytelling "Next Time Humble Pie," the band's hip-hop origins shine through, yet remain squarely within the domain of low-lit, smoky house party vibes, like a late-'90s neo-soul homage that's just self-aware enough to avoid parody or shmaltz.
While Syd's turn as a soloist between band albums has contributed greatly to her growth as both songwriter and singer, as her spare, airy delivery floats ethereally over the chunky basslines provided by Patrick Paige, guitarist Steve Lacy slides easily from the group's subtle secret weapon to full-on centerpiece, throwing down railing, growling, swaggering solos the signify his ascent to straight up guitar deity. The group's cohesion is simply stunning; the years they've spent apart working on solo albums has ironically contributed to a burst in chemistry that sounds honed instead by years of practiced performance. It's like the distance made them each grow fonder of the other, so when they finally reunited, their bond became even tighter.
The true surprise of the album is when Dungeon Family member Big Rube drops in on "It Gets Better" to deliver a signature, gravel-voiced lecture, admonishing and encouraging "believe me when I say time can heal most any wound." It's a benediction from a spiritual ancestor; Dungeon Family helped to lay the blueprint for massive hip-hop collectives like Odd Future, pioneering the kaleidoscopic, acid-splashed, cosmic hip-hop grooves that The Internet liberally cribs, and his appearance feels like a passing of the torch, an approving nod from a pathfinder to the settlers that have come behind. His voice slowly fades, even as the band keeps funking along, declaring their presence as the now and the future, which doesn't seem quite so odd now that it's here.
Hive Mind is out now via Columbia. Get it here.