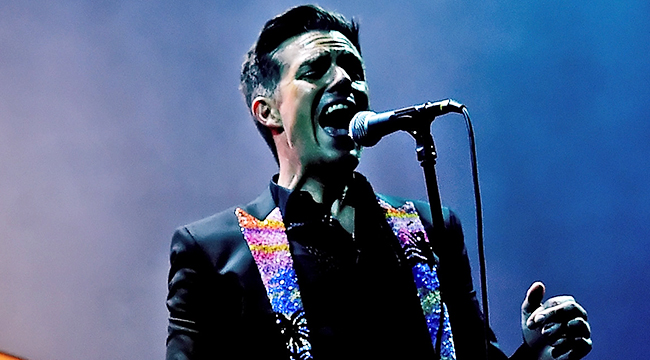 Last year, I interviewed The Killers for the first time as the band rolled out their fifth career album, Wonderful Wonderful. It was an idiosyncratic and adventurous collection, complete with Bowie-esque glam and traditional rock anthems, arena-ready ballads and meandering experiments. For a band with 16 years of wear on their tires and staggering success over that time, it felt like exactly the kind of album they needed to make, something that didn't rely on a formula and hedged their risks with what they knew would work. But it also found The Killers discussed in a familiar, dismissive, and often condescending way.
Speaking to both frontman Brandon Flowers and drummer Ronnie Vannucci Jr., what struck me most was how open they were about discussing their detractors. "My wife calls it 'keyboard bangers,' Flowers said about the journalists and bloggers that love to tear the band down. "She sees me when I let it get to me. And it's frustrating. I think music journalism, in general, is just different than it was maybe in the seventies. There's so much history and I do this to myself already, when I have to write a record, I think, what do I have to offer? How can I compete with everything that was done in the '50s, '60s, '70s, '80s, and '90s? It just starts to really weigh on you."
Vannucci would point out that Wonderful Wonderful actually holds the highest Metacritic rating of the band's career, while Flowers would add that how an album ages isn't necessarily reflected in criticisms of the time. Indeed, going back to see the reception at the time for their landmark 7-million-selling debut, Hot Fuss, finds a place like Pitchfork scoffing that it sounded like music created to land on a Now That's What I Call Music comp, while Entertainment Weekly asked if it was too soon "for a Strokes tribute band." Years before it would place Hot Fuss as the 43rd best album of the decade and the 33rd best debut of all-time, Rolling Stone came in with a far less enthusiastic 3-and-a-half star review. It would seem like the album just keeps getting better with age.
14 years after their debut, any knocks on the band couldn't matter less. This week, The Killers are releasing The Killers Career Vinyl Box, a set of seven offerings (their five studio albums along with the rarities comp Sawdust and their live album Live From The Royal Albert Hall) all on 180 gram vinyl and packaged in a pretty snazzy collector's case. It even comes with a Killers slip mat, because no Killers vinyl listening experience would be complete without it (but for real, it looks pretty awesome spinning around). It's a collection seemingly made for die-hards, which, in reality, is a much larger group than most people admit. And it's also an opportunity to listen to The Killers' discography free of some of the burdens of context or narrative, hearing how well these songs sound when standing next to each other.
Spending some time with the box set this week, a few thoughts crossed my mind. For one, the front side of Hot Fuss is a five-song stretch — "Jenny Was A Friend Of Mine," "Mr. Brightside," "Smile Like You Mean It," "Somebody Told Me," and "All These Things That I've Done" — that can comfortably compete with most anything. Full stop. Sure, some people might dismiss this as hyperbole, but find me another complete side on a record that is all still regularly in rotation on radio, including one song which was declared by Noisey to be our generation's "Stairway To Heaven." It's staggering how strong side A of Hot Fuss is, comprised of five classics that found the Las Vegas four-piece fully formed from their launch. Even The Joshua Tree, generally considered one of the most front-loaded albums of all-time, tops out at four classics in a row before including a deep cut. And even more impressive is the range that they represent. "Somebody Told Me" drifts close to novelty while "All These Things That I've Done" is a sprawling epic. "Jenny Was A Friend Of Mine" didn't even need to be released as a single to make a lasting impression at rock radio, a feat also held by Nirvana and few others. As a collective, the high bar that this group of songs sets is monumental.
It's a side of music that the back half can't really stand up to, but that doesn't mean that Hot Fuss's other songs are without their merits. The biggest revelation is "Change Your Mind," a sturdy, heart-on-its-sleeve rocker that would both foreshadow their work on Sam's Town that would follow and speak to the New York rock revivalism that the band was in communion with and inspired by. Album closer "Everything Will Be Alright" is also a special moment, standing as the only song that was recorded outside of the studio, using a rendition that was made at guitarist Dave Keuning's apartment in a knowing nod to the band's humble roots. For a group that was so polished out of the gate — right down to the album cover's display of a proper band logo that they still use today — there is a certain fearlessness in showing off a ruffled, gritty version of themselves. They are so often buttoned up, that a loosened-tie version is almost more captivating.
While none of their collections have quite as many standout moments as Hot Fuss, they all function remarkably well as albums. Sam's Town, another record whose esteem has only skyrocketed in the ensuing years since its release, is the rare collection that feels like it has two introductory tracks before finally beginning in earnest for "When You Were Young," possibly the best song The Killers have ever written. It was the moment that The Killers perfected the art of showmanship, aware that this song needed a red carpet rollout, that its star was bright enough to hold up to the flashing lights and screaming fans. It doesn't buoy the record, though, as there are plenty of other great moments to latch onto in the collection, including the propulsive, Springsteen-sounding "Read My Mind" and the glittery "Bling (Confession Of A King)." Tasked with the impossible duty of following up a legendary debut, Sam's Town still sounds remarkably unburdened, with the band using less synths and writing for the big stages they knew they'd inhabit. It's a functional album, and also a liberated one.
That didn't stop the critics at the time from lashing out on it. The New York Times said "their new bombast is a classic case of a young band overreaching to assert its significance," while Pitchfork doubled down on their Hot Fuss panning by comparing the two, saying they are both "mediocre albums surrounding a few towering singles." Even Rolling Stone would deliver a two-star review, saying the band was "trying to make a big statement, with nothing to say." Just a few years later, their readers would vote the album as the most underrated of the decade.
Day & Age, the band's 2008 effort and third album in four years found a bit of a happy medium between the sounds of the two albums that came before, which meant a song like "Human" was ripe for both the alternative world and for a dance remix. It was the record that saw the band ascend to festival headliner status, including Coachella the next year in 2009, which was just about the only place where a question like "are we humans or are we dancer?" made perfect sense. It also might be the most consistent and even-handed record in their discography, its magic-eye cover serving as a metaphor for how the songs come alive with closer examination.
And though even The Killers have a dud in their repertoire (2012's uninspired Battle Born), it's not without the redemption of the return to form of Wonderful Wonderful. It's a distance that doesn't seem too large, the sonic evolutions gradual and the hammy showmanship embraced more thoroughly as time has gone on. Critics would pick on each offering, but in 2018, the band stands unfazed, still wildly popular and beloved. It's not uncommon for critics to pan music that is successful, but the idea is that time will prove them right when the fads change and pop music moves onto whatever is next. But that hasn't happened to The Killers, with with the band still holding firm their place among their peers who often received much better reviews. Hell, many would question whether they even have peers, be it The Strokes, Interpol, Kings Of Leon, or Muse. The Killers made big-budget rock and roll in the aughts that has successfully conquered the '10s as well, a run of success only bested by the likes of Coldplay or maybe Muse.
If there is any saltiness from The Killers, you'd never know it. One little-known trait about them is how much they revere their own peers despite the fact that many critics took it much easier on them. The four members have aligned themselves as music fans as much as music creators and over the years have taken it upon themselves to lift up their colleagues when necessary. When they headlined Governors Ball in 2016, this meant covering Interpol's "Obstacle 1" in tribute to the band's place in the city's musical lexicon. When a Kings Of Leon set was canceled because of bad weather at 2015's Firefly in Delaware, The Killers offered up versions of "The Bucket" and "Use Somebody" to appease their disappointed fans. They would do the same thing for Muse at Lollapalooza 2017 and Morrissey at 2017's KROQ Acoustic Christmas.
"We come from working-class Vegas families," Vannucci would tell me about this practice of The Killers honoring their peers. "My mom and dad worked at the casinos, Brandon's parents worked at casinos. We would save up, and we would know about a show two months ahead of time and buy a ticket from somebody or get a loan from a buddy who had an extra 50 bucks to get a ticket. We know what it feels like when bands cancel and we know what a letdown that is for a festival scenario. We thought we could do right by at least giving the fans a little taste and tipping our hats to this great band."
It's in this light that I most like to think of The Killers, and it's a light that gives their whole career the tint of generosity. They are a band that doesn't just remember what it is like to be fans, but live out their trajectory as a band in service to the fans, the only real opinion that matters in the long run. And there is some irony that the artists to which they are often compared are not viewed by them as competition. After nearly two decades of success, their strong catalog of music puts them in competition with no one. It's all just glamorous indie rock and roll to them.
The Killers Career Vinyl Box is out on 6/15 via Island/UMe in clear and black editions. Buy it here.