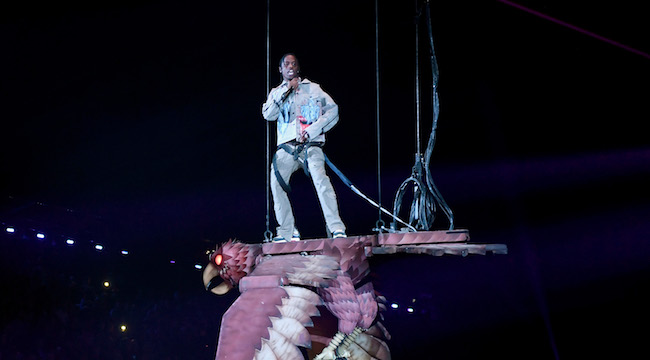 Houston rapper Travis Scott's shows have become legendary for their over-the-top levels of energy and wild crowds. They've also become notable for the giant, animatronic bird Travis stands atop while performing (he has a second one in a cage as part of his stage setup). While they're visually interesting and tie into his Birds In The Trap Sing McKnight album title, they do have a much deeper explanation in Travis' mind. He explained their significance in the cover story of this month's issue of Billboard that profiled both his insane work ethic and his lofty aspirations.
Travis is willing to cart the massive prop around on tour and incorporate it into so many of his performances — despite the cost of transportation and setup — because it brings a dimension of dedication that he thinks other artists lack.
Scott's massive bird is more than a theatrical tool — it's a physical manifestation of both his competitive streak (what else could possibly stand up to a Lamar performance?) and his ambition. "I don't want rap to feel so disposable," he says. "I want it to start lasting again."
Scott's a friend and fan of [Big] Sean ("That motherf*cker can rap"), but he still has a competitive streak. Hence the burly stagehand who is currently strapping Scott into a harness for his mechanical bird — the centerpiece of his Lamar tour set, and, now, the radio showcase. "Bringing the bird," says Scott, is money out of his pocket. "See, that's the difference between me and these n—-s. I go hard every time I go out. I bet other n—-s at radio shows [LA's Power 106's Cali Christmas] don't do this."
The Billboard cover story also covers Travis' creative process, his bizarre "abstract mantra" of Mission 28, and his tight-lipped nonresponse to persistent fatherhood rumors with Kylie Jenner. It's an insight into one of the hardest-working yet quietest rappers in the game.