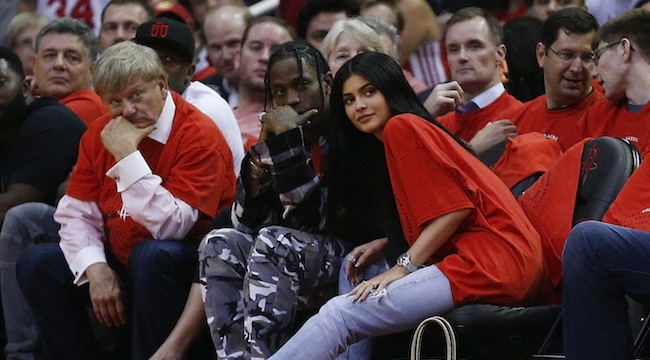 The rumors have swirled for months, but now the relationship between Travis Scott and Kylie Jenner just became stunningly real. Recently, the two decided to solidify their romance in one of the most permanent ways out there, by getting some matching ink.
Both Trav and Kylie recently shared Snapchat shots of a tiny butterfly tattoo that was inked onto the back of their lower leg.

The new tattoos seem to relate to one of Travis's more recent songs "Butterfly Effect." In the track, Trav raps, "Heatin' up, baby, I'm just heatin' up / Need ya love, not a need, it is a must / Feelin' stuck, you know how to keep me up / Icy love, icy like a hockey puck." The rapper all but confirmed that Jenner was the subject of the song last month when he posted up a picture to his Instagram of the socialite exiting a private jet with a caption that read, "Butterfly Effect."
Scott and Jenner have been stepping out more and more in the public eye together these last couple of months. Whether it's been sitting court side at Rockets games or kicking it at Coachella, it seems like they can't get enough of each other. The ties between Kanye West and his G.O.O.D. Music family and the Kardashian conglomerate are seemingly growing stronger by the day.