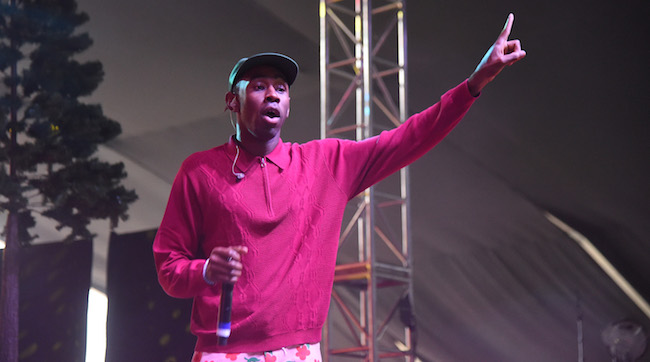 Tyler, The Creator is having quite the week. His new album Flower Boy just missed topping Billboard's album chart by 1,000 copies, losing out to Lana Del Rey's Lust For Life. The numbers were so close Billboard needed additional time to calculate the tally, and while Tyler was bummed, he did congratulate Lana on Twitter.
Tyler also performed at the Panorama Festival, along with his Odd Future brethren Frank Ocean, and though they never hit the stage together at the 3-day festival, they did in a much more intimate setting a few days later. Thursday morning Tyler announced in a since-deleted tweet that he was holding a secret show in New York for those who purchased the first 150 pairs of his collaboration with Converse, One Star x Golf Le Fleur, at Foot Locker in Times Square, NYC. Naturally that caused a bit of hysteria, but Tyler had something even better in store for those fans who were lucky enough to get into the show at The Studio at Webster Hall: Frank Ocean.
ASAP Rocky also made an appearance, and while fans obviously lost it to him, that was nothing compared to the reaction to seeing Frank and Tyler on stage together. Check out a few videos from the show below.
https://www.instagram.com/p/BXWmgTsFLqW/
https://www.instagram.com/p/BXWl2cxBo_M/