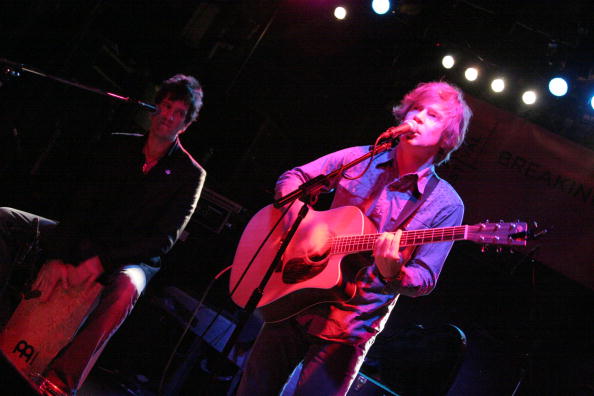 When you think of Nada Surf, a few things might pop into your mind. You might think of "Popular," the 1996 single that introduced the world to them. It was a fun track, in which a book about becoming popular in high school was read aloud from and viciously mocked. For too long, it was impossible to think of Nada Surf without thinking of the song, which made it rather difficult for the band to establish an identity.
Conversely, if you have heard of Nada Surf's post-"Popular" work, it might be because you heard one of their more recent songs in a movie or a TV drama. Here's the point: If the name Nada Surf reminds you of handful of songs you've only heard once or twice, you're missing out. While the band isn't a huge presence in mainstream rock, they've been making brilliant music for nearly two decades now, including this week's release of their eighth studio album, You Know Who You Are. When considering everything they've done, and how little recognition they've received, it doesn't seem like a stretch to consider the most under-appreciated band working today.
While their first two albums, High/Low and The Proximity Effect are certainly worthwhile records, Nada Surf broke their sound in 2003, when they released Let Go. The band's third album notably featured the emotionally devastating ballad "Inside of Love," a look at romantic despair so bleak it would make Morrissey blush, alongside more optimistic numbers like the power-poppy, Cheap Trick alluding "The Way You Wear Your Head." Really, from the subtle, Dylan-referencing "Blonde on Blonde," to the introspective, and surprisingly dark "Killian's Red," there are simply no missteps on this album. After a promising first two albums, this was the moment where Nada Surf realized everything they were capable of. In the time since, they've continued to make great albums in the mold of Let Go, displaying a remarkable consistency along the way.
Two years later, the band released The Weight Is a Gift, which we might call their "no, seriously" record. If Let Go proved that Nada Surf were capable of crafting memorable, mature music, its follow-up proved that it was something they can do on a regular basis; that it wasn't a fluke, and the band had truly evolved. The best-known track from this album is probably "Always Love," which is also probably the best song in the band's entire catalog (and that's really saying something). Anyone who has ever said something regretful in a fit of anger can listen to this song and have a good cry.
As the years went on, and frontman Matthew Caws entered his 40s, the band couldn't help but feel like elder statesmen for an audience who was likely much younger than they were. This was reflected particularly on "See These Bones," the opening track to their 2008 album Lucky, where Caws sings "what you are now/we were once." The idea here is that his songs are cautionary tales. If the average Nada Surf fan is — or was at the time — somewhere between 18 and 30 years old, Caws understands that he's probably already dealt with a lot of pain that his fans are going through. It's an interesting perspective, particularly if we consider that most of the practitioners of what we call "emo" music tend to be only a few years above high school age (note: Nada Surf are not emo, but they do share some of its qualities). One might look at Nada Surf as a band that explores the same pains that much younger bands write about, but with the experience necessary to understand that things will get better, and that you will outlast the grief that consumes you in the present.
This theme was even more true on 2012's The Stars Are Indifferent to Astronomy, and its lead single, "When I Was Young," in which Caws sings "When I was young/I didn't know if I was better off asleep or up/now I've grown up/I wonder what was that world I was dreamin' of." If "See These Bones" was Caws reminding us that his past is quite similar to his listeners' present, "When I Was Young" was him burying that past once and for all. And yet, despite his wisdom, he doesn't ask us to abandon our idealism. On the same album, he reminds us that "it's never too late for teenage dreams." Nada Surf's work has increasingly encouraged us to move behind our past disappointments, while not discarding the optimism that made us care so much in the first place.
Taking all of this into consideration, it makes sense that the band's new album is called You Know Who You Are, a perfect title for someone who has examined and recovered from their past hardships, and has emerged confident and self-assured. Ever since breaking out with Let Go, Nada Surf have consistently crafted great music, and their latest should be no exception. They're the type of band that can make you want to cry out every single failure you've endured, while also giving you the encouragement to know that you can overcome it all.