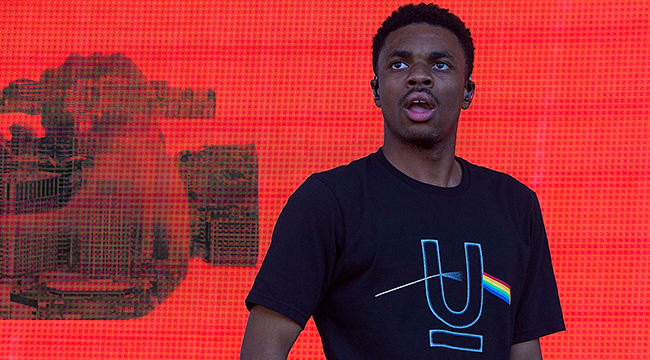 Teamed with that incisive, instantly recognizable drawl and riveting bars on the perils of life in the LBC, a crucial component of Vince Staples' journey to hip-hop's upper reaches has been his authentic personality. Reiterated through nearly every onscreen appearance during promo runs, jovial appearances on popular web-series' or his Snapchat collaboration with Uproxx, his drollness and amiability has yielded no shortage of quote-ready soundbites since he came to the forefront with 2014's Hell Can Wait EP. Fresh from placing his oar back in the choppy waters of the rap game with the concisely conceptual west coast bounce of FM!, his unimpeded rise up the ranks has also led to Vince undertaking a bold career maneuver in recent times.
A tale perpetuated throughout the genre's history, the Norf Side rapper has opted to enlist that natural charisma for more than the conventional press obligations or high caliber music videos and has made tracks towards another ravenously competitive industry — the acting world. Three years on from a tentative dabbling with the art form as one of A$AP Rocky's entourage in Dope, Staples has now taken broader strides forward with not only a voice acting role in the manga-indebted MFKZ but by signing on the dotted line to take top billing in Richard Hughes' Punk.
The amalgamation of a first-time director and a debuting leading man, the indie flick will see Vince undergo the on-screen transformation into Peter; a jaded individual who embarks on a road trip and fatefully finds himself in the snare of a gang of fugitive bank robbers. On account of his aforementioned gravitas, it would be safe to assume that Vince has all of the requisite tools to shoulder this burden and turn in a stellar performance. However, removing this segue from an ahistorical vacuum and contextualizing it in the wider canon of rappers in cinema displays the move as more of a calculated risk than any assurance of further success.
In a broad sense, the transition from rapper-to-actor is a three-pronged issue, with each of its distinct pathways having diametrically opposed effects on the artist's career. In the best case scenario, the artist in question will be lauded for his brazen decision to step out of preconceived comfort zones to transfix audiences with their performance, adding a new dynamic to their lore as a pop culture figure and leaving the door open for sought-after roles should they wish to place an increased onus on the film world.
Striking a balance between the allure of Hollywood's trappings and the pursuit that brought them into the cultural glare, an early adopter of this approach would be Ice Cube with his turn as conflicted gangbanger Darrin 'Doughboy' Baker in John Singleton's Boyz N The Hood. Released in the interim period between his first post-NWA album Amerikkka's Most Wanted in 1990 and its seminal follow-up Death Certificate, his portrayal of a man that's been discarded by society and even his own mother before realizing the cyclical heartache he's contributed — only when it's too late — unveiled a dramatic range that couldn't have been anticipated. Epitomized by the unyielding social commentary of his final monologue, this foray out of the booth simultaneously elevated Cube's profile above his former cohorts such as Dr. Dre & Eazy E while also setting the stage for a largely prosperous career down the road.
Far from the only rapper to have embellished their cultural footprint by lending their services to cult films, Cube's route was retraced by everyone from Nas and DMX in Hype Williams' stylized New York crime chronicle Belly to Tupac utilizing his classical training in Juice and Method Man's surrealist appearance in Zach Braff's Garden State. Although Vince's stature in the rap game is yet to equal that of such legendary predecessors, his continued prescience and popularity could make Peter his equivalent of Bishop (Tupac in Juice), Buns (DMX in Belly) or Sincere (Nas in Belly) in years to come.
A step beyond these intermittent dalliances with film are the crop of talented rappers who decided not just to wade waist deep into the acting realm but to fully submerge themselves in it. As ubiquitous with the TV sets and silver screens as he was with platinum plaques, this is the archetype forged by one of the genre's earliest crossover stars, Will Smith. Smith arguably pioneered this pathway, which applies to an entire subsect of rappers-turned-actors whose filmography largely eclipses their first discipline — at least for those who aren't devout hip-hop heads. While their appearances on-screen may be synonymous with their chosen pseudonyms rather than their government names, their musical output largely remains the purview of the avid fan as opposed to the unspecialized consumer.
Spurred on by the precedent set by the former Fresh Prince, Smith set the stage for the careers for renowned lyricists, backpack rappers and even Afrocentric pioneers to carve out their own lane. Despite the fact that hip-hop heads will always be in awe of Blackstar or Black On Both Sides, there is a generation of moviegoers that likely only know Yasiin Bey (fka Mos Def) from his appearances in movies like The Italian Job or Be Kind Rewind. In the same vein as the man that he drew inspiration from, there are many who saw Common embody civil rights leader James Bevel in Selma without considering how fitting a role it was for the socially conscious rapper, or who watched bonafide trailblazer Queen Latifah's scene-stealing turns in films such as Hairspray or Chicago without any knowledge of her trailblazing tenure in hip-hop.
And though he boasts enough crossover appeal to embark on the world's festival circuit or headline a large-scale domestic tour, it would still be hyperbolic to claim that Vince had broached household name territory as of yet. As a result, this starring film role could act as the gateway for the uninitiated to delve into his back catalogue after the fact; but he must remain mindful of the intrepid dangers of it overshadowing his musical wares.
Finally, it's worth discussing the most dreaded and reviled of all rapper-to-actor progressions. Comprised of ill-advised, self-commissioned projects, transparent biopics or wince-inducing cameos, these are the regretful attempts that brought rappers' careers under the parodical microscope like never before. To cite a scant few of these irrevocable blemishes, this is the meme fodder of 50 Cent's role as a cancer-stricken NFL player in All Things Fall Apart, the sheer absurdity of Master P's self-funded productions, Ja Rule in the Steven Seagal vehicle Half Past Dead or Wiz Khalifa and Snoop Dogg's Mac & Devin Go To High School.
While these aren't necessarily the death knell of an artist's career, and can even yield some iconically absurd moments such as Busta Rhymes' hand-to-hand combat with Michael Myers, the danger lies in the fact that these haphazard showings play directly into the rhetoric of those wishing to discredit hip-hop's cultural contributions at every turn. By putting in a subpar performance or crossing into the realm of the farcical, any rapper can seriously hamper their legitimacy as an artist and make a beeline for reduced relevancy.
Based upon the scarcity of acting work he's had up until this point, it is almost impossible to pinpoint exactly what kind of reception Staples will garner from making the leap into leading man duties. But it's all too clear how treacherous that tightrope between acclaim and ridicule can be. Luckily for Vince, the natural magnetism that he has in abundance will make every second of his screen time engrossing in one way or another. Let's just hope it'll be more in the vein of a gripping thespian such as Tupac as opposed to Tone Loc.