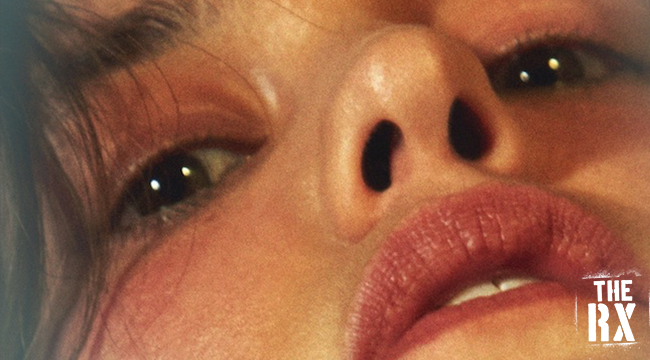 The RX is Uproxx Music's stamp of approval for the best albums, songs, and music stories throughout the year. Inclusion in this category is the highest distinction we can bestow, and signals the most important music being released throughout the year. The RX is the music you need, right now.
"This woman loves you / her faith will bring you to your knees" — Wet, "This Woman Loves You"
In late fall of 2013, a song began to bubble up in Brooklyn indie circles and cool kid music blogs. "Don't Wanna Be Your Girl" was immediately arresting, a song of the sweetest stuff about the hardest thing, a rare, tough dichotomy that many songwriters attempt but few are able to realize. First muted and whirring mumbles, Kelly Zutrau's voice comes through crystal clear on the song's gutwrenching opening line: "I don't wanna be your girl no more."
The Fader, one of the band's earliest and most fervent supporters, recently noted the inherent romantic nature of Wet's music, even when the songs aren't about working relationships. That's exactly what this early hit — still the band's biggest song to date — encapsulated; there's tender relief in Zutrau's defiant admission, it's not f*cking working.
Much ado has been made about Wet as an R&B-influenced band, but that's not it. The New Yorker dubbing them the future of pop is closer, or to get specific: "lo-fi folk, brainy electronica, and slow-burn R&B." Maybe, but there's no sex-magic or deep-f*ck lust here, that's not the point of Wet. If you're judging them against that rubric, they will fail, but it's a forced fit even then. The desire inside of this music is less a bodily concern and more spiritual — freedom, security, fear. On their self-titled debut EP, which was released in 2013 via the indie label/Columbia Records feeder Neon Gold Records, the band is perfect. All four songs are rubbery, skeletal, fishbowl sketches of small loves crammed with gigantic feelings. Then, things begin to get muddled.
First, the crossover from Neon Gold to Columbia Records was flubbed, to say the least. 2014 passed without a debut record, then, so did 2015. The gossamer bubble of jammy and existential synthpop was filled with other players, many of them cribbing liberally from a sound Zutrau helped make major label-credible, others taking it in directions more akin to a nü-R&B, which again, is not where Wet thrived or ever really functioned. What's worse, the band lost momentum, and the goodwill born of "Don't Wanna Be Your Girl" — a song with a star power of its own — fizzled out. This is how pop music works, songs are connected to a time, and albums necessarily need to be, too, in order to succeed.
Finally, Don't You came out in early January 2016, top of the year, first quarter, and arguably the worst time for any band to release a record. With their debut album coming almost three years after their introduction, a lot of the group's initial momentum had petered out, and into that void stepped Pitchfork, who reamed the band with a particularly vicious review, as they occasionally do when an indie artist has too much commercial gleam. Even while publications like The New York Times, and of course The Fader, praised the record, the damage was done.
Fans, furious with what they felt was an unfair judgment, infamously posted a copy of the review on Genius and begun annotating it. Josh Tillman, aka Father John Misty once spoke of the "psychic trauma" a harsh Pitchfork review can inflict on a band, and that certainly seemed to be the case here.
Except Don't You was not a bad record by any means. Certainly, it came at the wrong time, and bore traces of inner turmoil and label meddling, but standouts like "Deadwater" and "Weak" built on that early EP's hypnotic glimmers. To put it bluntly, the album never stood a chance because it was released right at a time when critics were sick of the airy indie pop the trio ushered in three years back. They were victims of timing, more than anything else, but categorization was something detractors harped on. "We're too cool for pop music people and too pop for the cool music people," member Joe Valle once said of the group in an interview back in 2015. "We want to hit the sweet spot of just being good." Somewhat prophetically, the band's sophomore album, Still Run does just that — but the strength it took on Zutrau's part to hit that sweet spot is the real story here.
"There were a lot of challenges and a lot of changes," Zutrau said in a press release about this new album, discussing one of their early singles, "There's A Reason," in particular. "There were so many reasons to not make music together anymore, but something compelled us to keep coming back to it. That's what 'There's a Reason' is about." As detailed in a few interviews, unable to soldier forward pretending the band was a democratic trio while she wrote the lion's share of the work, Zutrau blew up the three-piece by asserting she needed more credit. Working with outside producers and trusting other people's vision on their debut had obviously backfired, she was going to take control back, consequences be damned. The resulting fall-out resulted in a loss of one founding member, guitarist Marty Sulkow, and disintegrated the romantic partnership between Zutrau and Wet's other remaining member, Valle.
But, in the aftermath, the pair's musical partnership endured, and led to the collaborations that appear on Still Run, which came out last week. "He's not just a producer, he is a part of Wet and he is willing to go back and back and back with me," Zutrau said. "No one cares, but Joe does. That's what I love about Joe." Elsewhere, Zutrau got more personal than ever before about the stress of her childhood and frenetic upbringing, the prestigious arts high school scholarship that wore her out trying to keep up, and recurring struggle with substance abuse and addiction.
With all this context, it's impossible to listen to Still Run and hear anything other than a triumph. On brighter songs like "You're Not Wrong" and the aforementioned "There's A Reason," Zutrau and Valle bring a lightness to their work that feels like a result of being as honest as they were with themselves. Production flourishes from other guests like Rostam ("You're Not Wrong," "This Woman Loves You" ), and Andrew Sarlo, who is credited with producing much of Big Thief's second album, Capacity, help expand the now-duo into bigger, majestic chamber pop. The only trace of R&B comes from someone actively working in that tradition, the guest vocals of Starchild & The New Romantic on the gorgeous opener and title track. Later, on "Softens," one of the songs helmed by Sarlo, Zutra sings the refrain "beauty softens grief," and it becomes a mantra for the whole album.
The songs an artist like Kelly makes are as much about what she had to overcome to get there as they are about the beauty of the songs themselves. They're as much about the storied, historical system that shuts women like her out as they are the turn of a phrase, the progression of a subgenre. They exist in direct rebuttal of the industry forces that declare them worthless; songs like these aren't even always about the song; sometimes music is pure and utter resistance, another brick in the wall that staves off forces that routinely seek to deny us our humanity, our self-expression. When I listen to Wet — I love their music, I think the songs are great — but more than that, what I hear is the sound of a woman not giving up, and dammit do I ever need to hear that sound, to hear that story, in 2018.
On my favorite track off the record, "This Woman Loves You," Zutrau writes about her own power, moving back and forth between New York and LA, unable to give up on her songs. "Her faith will bring you to your knees," she sings. It's a far cry from her breakout single, a song about being trapped, wanting to leave. Here, she asserts her own potential, the unrelenting strength of her faith. The girl grew up, now she knows exactly when to run, and the power of what it means to stay.
Still Run is out now via Columbia Records. Get it here.