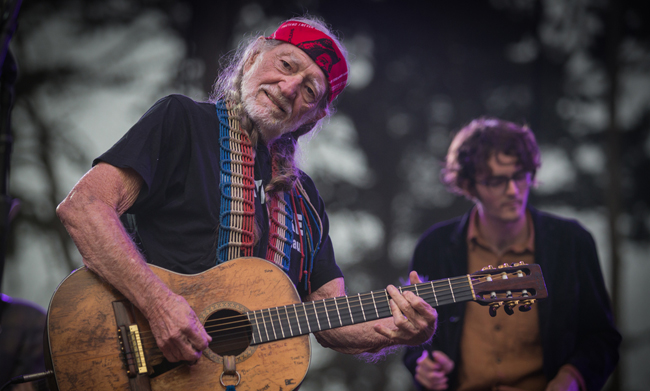 When Willie Nelson takes the stage at the fourth annual Heartbreaker Banquet at his Luck, Texas ranch outside of Austin, he'll be doing so as a legend. Nelson has earned the title a few times over, thanks to a career that's been chugging since 1956, leaving an impact on music that most artists can only dream about.
The red-headed stranger's history is littered with names that have gone on to achieve their own acclaim, including the likes of Johnny Cash, Waylon Jennings, and Kris Kristofferson. It's intertwined with countless others from across popular music and isn't an exclusive club, as is evident from the lineup at the annual SXSW bash.
Willie Nelson today is a the new age, pot-smoking, torch bearer for country music. An outlaw who's experienced life at all levels. His legacy has earned him notoriety as one of the most recognizable faces in all of music, but it wasn't always looking that way.
In the late '60s, Nelson traversed the frustrations of the Nashville scene, seeking the relief of the road against the rhinestones of Tennessee. Kinky Friedman put it best in the foreword to Nelson's book Roll Me Up and Smoke Me When I Die:
"Like Davy Crockett before him, Willie would walk into history by way of his pilgrimage to Texas."
"The Words Don't Fit The Picture."
In 1965, Nelson was established as a songwriting force in Nashville. Through songs like "Crazy," made famous by Patsy Cline, and "Hello Walls," a top 40 hit for Faron Young, Nelson had broken through. As Friedman describes, Willie wrote songs "that may make you think, and some of them will stay with you for a lifetime."
The writing was good, and it helped pay bills, but the road is where Nelson claimed to feel effective as a musician. From Willie Nelson: An Epic Life by Joe Nick Patoski:
"I didn't want to sit there and raise hogs and write songs," he said. "I wanted to be out there playing, going from town to town and playing my own music."
Touring allowed Nelson to hone his talent and open doors for other artists along the way. The likes of Johnny Bush and Wade Ray backed Nelson, playing live shows that bucked mainstream trends and facilitated his style. From Patoski:
"It had a lot to do with me singing my own songs and performing as a songwriter…I felt it was important that they understood what I was saying . A loud band behind me would interfere with what I was trying to say."
One of these shows at the Panther Hall would become the album Live Country Music Concert, a recording that experienced decent sales in Willie's native Texas and floundered elsewhere (a small peek into the future). As Patoski noted, the album was an achievement for Nelson because it "showcased his work with his own band," as opposed to studio musicians who would never be able to replicate the studio sound on the road.
Nelson and his band mates suffered for their art at this period, but it paid dividends at a personal level. Keeping a tight-knit band allowed for more care to be given to individual skill; picture a well-crafted Jazz quartet, mastering their parts and learning each other's tendencies.