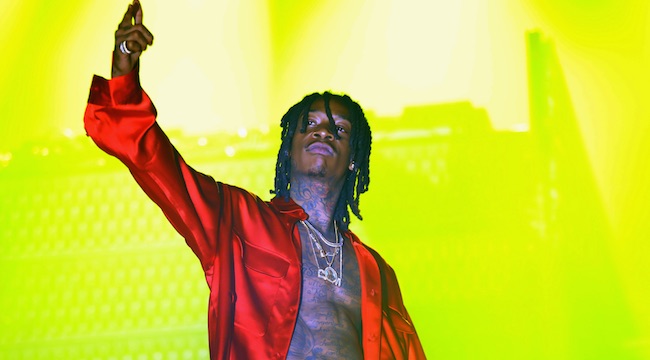 Don't be surprised if Wiz Khalifa makes a splash into the world of R&B sometime in the future. In fact, just today, he dropped a collab with LA-based R&B duo THEY., who announced their debut Fireside EP will be out this November and teased the whole thing with the track "What I Know Now," featuring the rapper.
When asked about his previous dabbling in R&B, the chart-topping hit "Hopeless Romantic" featuring Swae Lee, ahead of his Doritos Blaze-sponsored performance at Life Is Beautiful a couple weekends ago, Wiz reveals he'd be open to putting forth a project solely with an R&B vibe: "Absolutely!" he said. "Hell yeah." And it looks like this latest collab with THEY. makes good on another foray into that realm, check it out below:
While it's certainly not a rare experience to hear a Grammy Award-nominated artist like Khalifa harmonizing about love, lust, and sex on most of his albums (O.N.I.F.C.'s "Up In It" anyone?), they're usually among some of his more rambunctious club anthems. There's never been a project filled with mainly affectionately-formed Wiz tracks of the "Hopeless Romantic" or "Late Night Messages" variety. With six studio albums and countless mixtapes under his belt already, there's no better time for his to expand his musical palette than now.
Wiz Khalifa's Taylor Gang reign has appeared almost effortlessly throughout his musical career. He's managed to stay relevant and survive through every trendy era hip-hop has gone through since 2009, a feat that should hardly go unnoticed, plus surviving a contentious divorce from his ex-wife, Amber Rose, a star in her own right. Wiz's ability to persevere through the test of time simply by following his own wave is among one of many reasons for his long-lasting success.
The Pittsburgh native churned out magnetic stoner music with Kush & Orange Juice in 2010, strip club bangers on Cabin Fever and pop-friendly cuts with Rolling Papers in 2011, and again, on the 2018 appropriate Rolling Papers 2. Proven he can make just about any sound his own, why not have some fun by putting out a project filled with R&B soul?
Before hitting the stage, Wiz further shared some of his favorite R&B acts of the moment and opened up about whether he feels he receives adequate recognition for being a pioneer in the rap game, and didn't forget to fill me in on his successful marijuana strain, Khalifa Kush, along with percolating plans to take over Netflix. Read a condensed, edited transcript of our conversation below.
One of my favorite songs off Rolling Papers 2 is "Hopeless Romantic." Are you a hopeless romantic?
[Laughs] According to the song, yeah.
What's the sweetest thing you've ever done for a girl you were dating or pursuing?
I think the sweetest thing I did for one of my girlfriends was, it was her birthday and I got her a birthday card for every year that she just turned. Her age, whatever it was at the time, I got a card and told her why I loved her on each card. It's kinda sweet. I was proud of myself.
The vibe on "Hopeless Romantic" and a lot of the songs I enjoy from you have that R&B-vibe. What are some R&B artists that you're feeling right now?
I like Khalid, Ty Dolla $ign, Jacquees is hard, Jeremih is hard, H.E.R. Really, I'm a smooth listener. I'm kinda rough around the edges, but the music that I enjoy is really, really, smooth so being able to put those two together.
Would you consider putting together a whole project together with just that vibe?
100%, and it's more open for me to do that now because of how music is being digested and especially since I put my album out now. You have the album, now I can have fun and experiment and do some cool sh*t in between. So yeah, for sure.
I heard "Something New" was recorded in 15 minutes. How often does that happen?
It happens really often, actually. Especially more now, just because I'm having so much fun with my music and anything that I hear, I'm just experimenting and feeling it out while I go. That's the same way 'Black And Yellow' was made, too. I was just in the studio and having fun with it. I was just thinking about that today. When I did "See You Again," I had no idea it was going to be as big as it was. It was done super quick.
[It was] really, really fast, like, 'Yo, I just gotta do this verse real quick.' I just knocked it out and it became one of my biggest songs ever. [With] a lot of stuff I'm just really feeling it out and having fun and just going with how I feel when I get in there. If I have to tighten it up later I do, but a majority of the time, it comes out pretty tight.
So, you just wrapped up your huge 'Dazed & Blazed' tour with Rae Sremmurd. How did it go?
The tour was awesome. It was one of my favorite tours just because being in the game for a little bit, it was fun to have Lil Skies, who is damn-near brand new, and O.T. Genesis, who has a lot of hits, and Rae Sremmurd, who have a lot of hits. It was just good to have a lot of energy in the room to bring me alive as well.
What's next now that the tour is over?
We're shooting another movie with Snoop [Dogg]. I'm executive producing like three TV shows, I'm shooting a documentary, so more visual stuff. Taking over Netflix, Apple TV, and actual television stuff.
Another endeavor you have is Khalifa Kush and I want to talk about this for a second because I went to a dispensary in Los Angeles and they "had" it. I didn't know if it was real or not. So, how do we know if it's legit and where can we get it?
It's at Reef out here [Las Vegas]. If you went to Reef then that's the real thing. There's none in LA. There's some in Denver, The Bay Area, and San Diego too.
Are you trying to get it in LA?
Eventually. The laws just changed in LA for it to be recreational so we're just waiting for everything to turn over.
I was speaking with a friend who doesn't think you get enough credit for opening the doors when you started the whole day-to-day vlogs, live streams trend. Basically, many rappers are getting into the game now by using your blueprint. Do you think you get enough credit?
I think I do. I don't think people say it so much publicly because everything moves fast, you don't have enough time sit around and talk about who did what for every situation. Every artist, especially young artists that I meet, they always show me respect and show me love and tell me how much the day-to-days inspired them and how much they watched my whole come up and kind of modeled their success after that. When I have people actually come up to me and say it, that's all the gratification I need. I'm good with that.
I noticed you are in the studio with a lot of young artists like Lil Skies and Rico Nasty. How important do you think it is for an artist like yourself to connect with the younger generation?
It's super important to connect with the younger generation because they keep us fresh. There was a time when I was a really young artist coming into the game and everything I was doing was brand new, so I remember the people who looked out for me and got into the studio with me or sent me beats and took chances with me before it was the thing to do. I always make sure I reach out and give back to the younger artists because I see their potential and I see where they're going with it [because] sometimes you just need the right artist to give you that push.
How'd that make you feel as a younger artist, to have an artist you might have looked up to take you under their wings or want to work with you?
It was always a pleasure for me because I'm the type of person who likes to soak up the game. I was never a know-it-all. Anybody who would take the time…whether it was recording me in a session or listen to my music and critiquing it, I would take it as something really, really valuable and try to make the best out of the situation.
Rolling Papers 2 is out now via Atlantic Records. Get it here.