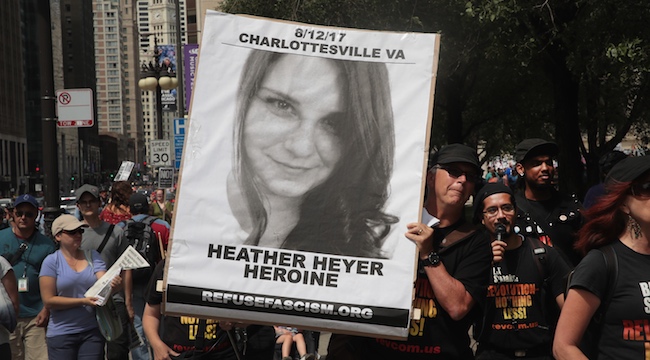 The music world has already shared many disgusted and impassioned reactions in response to the violent Unite the Right rally in Charlottesville this weekend, which claimed the life of 32-year-old Heather Heyer, who was killed when a car drove into a crowd. A Go Fund Me campaign was set up to help the Heyer family through this difficult time, and it was a rousing success: As of this morning, the campaign raised over $225,000. Detroit noise band Wolf Eyes did their part to help yesterday by releasing No Hate, a free experimental album created to bolster the fundraising effort.
[protected-iframe id="4476182feb43e9a2195b57480a1705d1-60970621-76566046″ info="https://bandcamp.com/EmbeddedPlayer/album=3891162338/size=large/bgcol=ffffff/linkcol=de270f/tracklist=false/transparent=true/" style="border: 0; width: 350px; height: 470px;"]
The Go Fund Me page was created with a $20,000 goal on August 12, and the description read, "Heather Heyer was murdered while protesting against hate. We are raising money to give to her family for anything that they may need. She is a Greene County native and Graduated from William Monroe High School. She will truly be missed."
The reactions to the horrific events in Charlottesville have been quick, plentiful, and passionate; Attendees have been identified and lost their jobs, Go Daddy took a white supremacist site offline, and John Oliver slammed Donald Trump's response, which he attests failed to "f**king condemn" Nazis.
Wolf Eyes released their most recent album, Undertow, earlier this year. Listen to No Hate above.