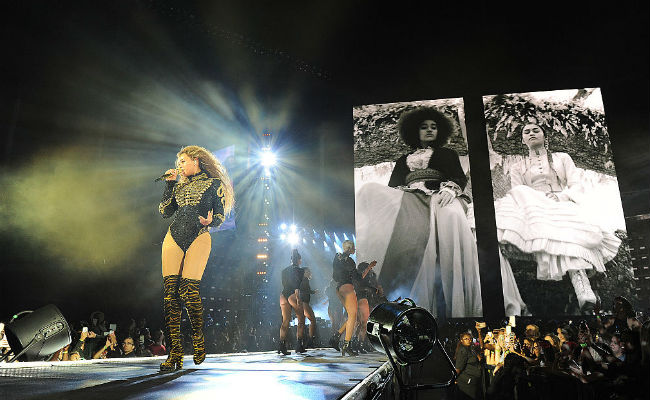 This may be the saddest story you'll ever hear.
Like many members of the BeyHive, Tammy, a South African photographer currently living in England, was ecstatic when she was able to score tickets to see Beyonce in concert — where the singer is currently on the U.K. stop of her Formation World Tour. Unlike many fans who bought their tickets weeks in advance, Tammy was slightly intoxicated at the time of her purchase, which might explain how this whole fiasco came to be.
On Sunday, Tammy, her husband and her son were all on a train heading to Wembley Stadium where Beyonce had performed the night before and where she was slated for another show that evening. Tammy's dreams of seeing Queen Bey's dancers get in formation quickly vanished when she decided to pull up the passes through her app and couldn't find them.
"It said only past events and I saw it said Saturday and realized the show was over and we couldn't go anymore," she told BuzzFeed News.
Tammy managed to battle through the crippling feelings of regret and self-shame she was probably experiencing at the time to, of course, share her moment of suffering with the world.
[protected-iframe id="748b341cb52f82a28a4f57ab10a40eed-60970621-34435829″ info="hash" class="twitter-tweet"]
Tammy tried tweeting and calling Ticketmaster to see if there was any way she could change her tickets to Sunday night's show before issuing a call for help on social media. Plenty of BeyHive members came to her aid, warning her to steer clear of scalpers outside the stadium and suggesting she try the box office as there are usually tickets available (though they're often pricey). Some people even petitioned the Lemonade singer to help the poor woman.
Sadly, Tammy's night ended the way you probably already guessed, training back home without seeing Beyonce slay on stage. Luckily, she has a great husband who knew just what his wife needed after experiencing such tragedy.
That's right, instead of seeing Bey live, Tammy and her family wove their way through underground torture chambers with a trip to one of London's most famous theatrical attractions. (We would've preferred drowning our sorrows in some Pimms and lemonade.)
(Via BuzzFeed)